ISS TOOLBAG: When Endeavour astronaut Heidemarie Stefanyshyn-Piper dropped her toolbag during a spacewalk on Nov. 18th and it floated away, mission controllers probably figured they'd seen the last of it. Think again. On Nov. 22nd, veteran satellite observer Kevin Fetter video-recorded the backpack-sized bag gliding over his backyard observatory in Brockville, Ontario: 900 kB video. "It was easily 8th magnitude or brighter as it passed by the 4th magnitude star eta Pisces," he says. Spaceweather's satellite tracker is monitoring the toolbag; click here for flybys.
UPDATE: Ed Light of Lakewood, NJ, saw the toolbag on the same night. He observed it using 10x50 binoculars and estimates its magnitude at +6.4, just below the threshold of naked-eye visibility. "It was a favorable pass, elevation 70 degrees," he notes. "Lower apparitions would be fainter."
EXPLOSION IN PROGRESS: An explosion is underway on the sun. The source of the blast lies out of sight somewhere over the sun's western limb, but the ejecta is visible as it billows into space:
A coronagraph onboard the Solar and Heliospheric Observatory (SOHO) is monitoring the progress of the expanding CME. The cloud is not directed at Earth and should cause no geomagnetic activity on our planet. It is, however, a promising "sign of life" on the sun. Slowly but surely, solar minimum is coming to an end.
3D BEHEMOTH: It masses 300,214 kg, has wings almost as wide as a football field, occupies 12,626 cubic feet of living space--and now it's jumping out of your computer screen. Put on your 3D glasses and behold in the International Space Station: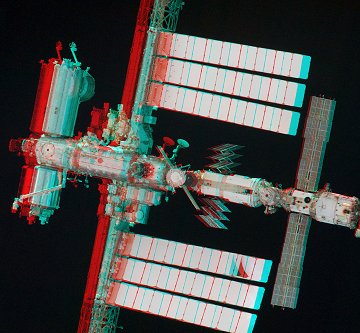 Click to view the full-sized 3D image
Graphic artist Patrick Vantuyne of Belgium created the anaglyph using photos taken from space shuttle Endeavour on Nov. 16th. Endeavour was hovering near the ISS for a mutual inspection prior to docking hours later. When Endeavour did link up, it added about 110,000 kg of mass and 23 meters of wingspan to the complex. If only a third spacecraft had been present to take photos of that....
Docked together, Endeavour and the ISS are circling Earth and flying over many towns and cities after dark. They're bright, eye-catching, and if you look at them through a telescope, genuinely 3D. Check the Simple Satellite Tracker for flybys of your hometown.
---
Nov. 2008 Aurora Gallery
[Previous Novembers: 2007, 2006, 2004, 2003, 2001, 2000]