MOONBOW CHALLENGE: Experts once thought that moonbows--that is, rainbows formed in moonlight--were only visible around the time of a bright full Moon. "Amateur astronomer Martin McKenna has just broken that rule by photographing a moonbow only 7 days before the new moon," announces atmospheric optics expert Les Cowley. "The challenge now is to image one even closer to a new moon." Readers, can you do it? "Who knows," says Cowley, "I might even offer a prize of an umbrella!" Submit your images here.
STUNNING SKY SHOW: When the sun goes down tonight, step outside and look south. Beaming through the twilight is one of the prettiest things you'll ever see--a tight three-way conjunction of Venus, Jupiter and the crescent Moon: sky map.
Photographer Ehsan Sanaei Ardakani sends this picture taken just hours ago from Ardakan, Iran: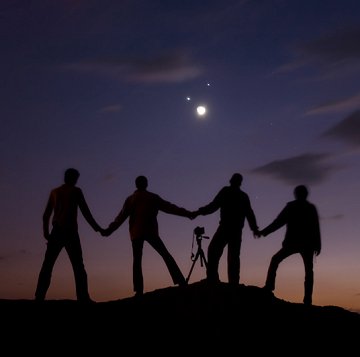 "It was one the most spectacular conjunctions ever," he says "I took the picture using a Nikon D70s set at 200 ASA for 20s."
more images: from Becky Ramotowski of Tijeras, New Mexico; from Ramiz Qureshi of Karachi, Pakistan; from Mustafa Erol of Antalya, Turkey; from Hossein Haeri-Ardakani of Ardakan, Yazd, Iran; from Milan Gucic of Belgrade, Serbia; from Premjith Narayanan of the Kingdom of Bahrain; from Mike Salway of Central Coast, NSW Australia; from Sigurd Lasa of Cebu, Philippines; from Kim Cheol-Joong of Chuncheon, Gangwon-do, South Korea; from David Maidment of Sohar, Oman; from Mania Rahban of Kerman, Iran; from Trevor Ward of Perth Western Australia; from Cindy Safina of Tsimshatsui, Hong Kong; from Raghu Kalra of New Delhi; from Shahrin of Kuala Lumpur, Malaysia; from Tunç Tezel of Denizli, Turkey; from Paul Haese of Blackwood, South Australia; from Chunkin Man of Kowloon Bay, Hong Kong; from Nigel Dudley of Oakford, Western Australia; from James Kevin Ty of Manila, the Philippines; from Simon Chan of Perth, Western Australia; from David Hough of Warners Bay NSW Australia; from Dennis Mammana of Borrego Springs, California; from Luc Bellavance of Rimouski, Quebec; from Stephen O'Meara of Volcano, Hawaii;
AURORA WATCH: Last night in far-northern Nunavik, Quebec, the clouds parted to reveal a green and purple ribbon of light winding among the stars. Sylvain Serre grabbed his Canon 30D and snapped this picture: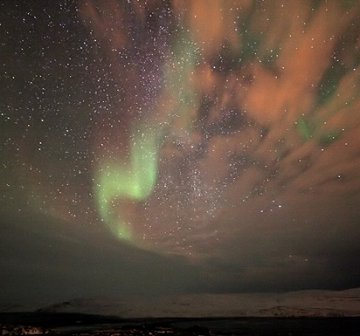 Photo details: Canon EOS 30D, 10mm, f/3.5, ISO 800, 20 sec
"November has been a good month for auroras," says Serre. "We've had five clear nights and I saw the Northern Lights every time." Serre's home in far-northern Quebec lies under Earth's auroral oval, a glowing ring around the North Pole where auroras are almost constantly active. Last night's display was encouraged by a crack in Earth's magnetosphere briefly opening and allowing solar wind to pour in. It was a minor display by the standards of Nunavik--"not very beautiful," deadpans Serre, "but we enjoyed it anyway."
A better show is in the offing. A solar wind stream is heading for Earth and it could spark geomagnetic storms when it arrives on Dec. 3rd or 4th. High-latitude sky watchers should be alert for auroras.
Nov. 2008 Aurora Gallery
[Previous Novembers: 2007, 2006, 2004, 2003, 2001, 2000]