MOONBOW CHALLENGE: Experts once thought that moonbows--that is, rainbows formed in moonlight--were only visible around the time of a bright full Moon. "Amateur astronomer Martin McKenna has just broken that rule by photographing a moonbow only 7 days before the new moon," announces atmospheric optics expert Les Cowley. "The challenge now is to image one even closer to a new moon." Readers, can you do it? "Who knows," says Cowley, "I might even offer a prize of an umbrella!" Submit your images here.
GREAT CONJUNCTION: Last night, the three brightest objects in the night sky converged, producing a triple-conjunction of stunning beauty. Venus, Jupiter and the crescent Moon were crowded into a patch of sky just a few degrees across when Steve Lantz took this picture from the Garden of the Gods near Colorado Springs: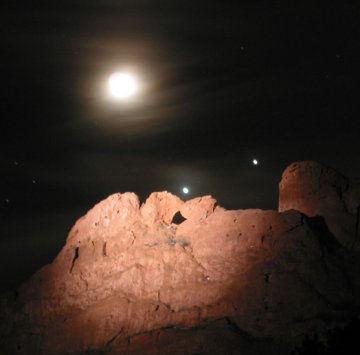 Photo Details: Canon PowerShot G2, ISO 50, 15 seconds at f/2.5
"The rock formation in the foreground is called Kissing Camels rock," says Lantz. "We had some clouds, but that was no problem. Venus and the Moon beamed right through them."
In the 10-year history of Spaceweather.com, no single event has generated more photos than this one. Submissions have poured in from six continents, dozens of countries, kingdoms, democracies, theocracies, ships, planes, cars, and even from a military aircraft refueling 35,000 feet over Iraq. We're building a gallery to display a selection of the best shots. Stay tuned!
LUNAR OCCULTATION OF VENUS: En route to last night's Great Conjunction, the Moon ran right over Venus. The event, which astronomers call a "lunar occultation," happened directly over Europe where Romanian photographer Stanescu Octavian took this picture: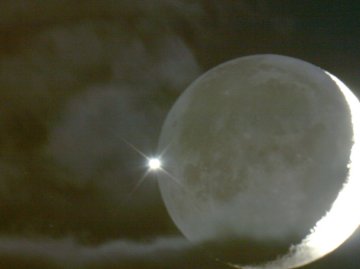 Photo details: Canon 300D + a homemade 250mm Newtonian telescope
"I caught Venus just before it disappeared behind the dark edge of the Moon," he says. Venus remained hidden for more than an hour, then popped out again to form a spectacular triangle with Jupiter and Luna as opposing vertices. "What a very nice vision!"
Lunar occultations of Venus happen about twice a year. The next two: Feb 28, 2009, over Antarctica and Apr. 22, 2009, over North America. The North American occultation is going to be good, occuring in a lovely pre-dawn Spring sky while Mars hovers nearby. Mark your calendar.
more images: from Frank Ryan Jr at The Burren, Co. Clare, Ireland; from Deirdre Kelleghan of Greystones, Co Wicklow Ireland; from Eduard Masana of Barcelona, Spain; from Luis Carreira of Leiria, Portugal; from Erwan Henry of Saint-Rieul, Brittany, France; from Monika Landy-Gyebnar of Balatonakarattya, Hungary; from Brian Fitzsimons of Cavan, Ireland; from Günther Strauch of Borken, NRW, Germany; from James Canvin of Cullompton, Devon, UK; from Wojciech Piskorz of Gliwice, Poland; from Claudio Bottari of Sava, Italy; from Eddie Guscott of Corringham, Essex, England; from John Durston of Plymouth, UK; from Martin Campbell of Dungannon, N.Ireland; from Elias Chasiotis at the Valley of the Temples, Agrigento, Sicily, Italy; from Guenter Kleinschuster of Feldbach, Styria, Austria; from John Fitzsimons of Sligo, Ireland; from Luigi Fiorentino of Bari, Italy;
---
Nov. 2008 Aurora Gallery
[Previous Novembers: 2007, 2006, 2004, 2003, 2001, 2000]