Where's Saturn? Is that a UFO--or the ISS? What's the name of that star? Get the answers from mySKY--a fun new astronomy helper from Meade.

ASTEROID FLYBY: Mark your calendar: On Jan. 29, 2008, one night before a Tunguska-class (50m-wide) asteroid threatens to strike Mars, an even larger asteroid will fly past our own planet. At closest approach, 2007 TU24 will be 1.4 lunar distances from Earth. There's no danger of a collision, but the 400m-wide space rock will be close enough to phtograph through backyard telescopes as it speeds through the constellation Cassiopeia glowing like a 10th magnitude star. [ephemeris] [orbit]

CHRISTMAS PROMS: "The promenences on the sun's limb today have a real Christmas feel to them!" reports Greg Piepol of Rockville, Maryland. Here is the view through his Coronado SolarMax 90: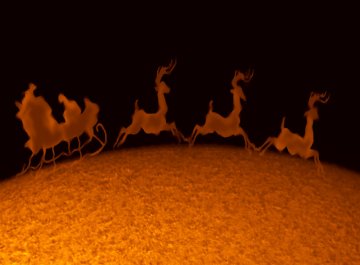 Solar prominences are clouds of hydrogen twisted and held aloft by solar magnetic fields. They're common enough, but how often do they twist into the shape of reindeer? It must be Christmas... "Have a great holiday!" says Piepol.
more images: from Franck Charlier of Marines, Val d'Oise, France.
MOON AND MARS: Last night, sky watchers around the world witnessed a meeting of the full Moon and Mars. "The wind was blowing hard, it was freezing cold, and clouds moved in and out of view, but the beautiful Moon-Mars duo made it all worthwhile," says Rachel Bowerman who took this picture from Gomer, Ohio: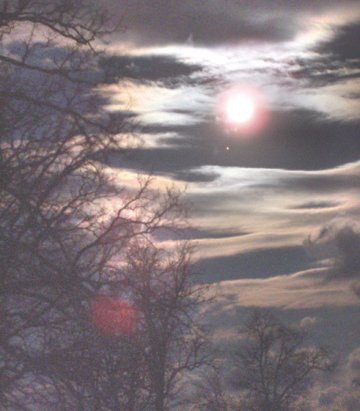 Click to view a world map of Moon-Mars photos
In central Europe the Moon passed directly in front of Mars. "It was a real eclipse," says Hanno Falk of Flensburg, Germany. "The weather was not cooperative, but I shot a lot of pictures and combined them to make a video." Just outside the path of totality, Martin Wagner of Sonnenbuehl-Genkingen, Germany, caught Mars apparently floating above a field of lunar craters: image.
The Moon and Mars are separating now, but they'll still be close enough together to produce a pleasing Christmas Eve sky show. Don't miss it!
more images: from Kay Meyer of Glendale, CA; from Edgar in Union Square, San Francisco, CA; from Peter Heinzen of Raron, Swiss Alps, Switzerland; from David Harvey of Tucson, Arizona; from Ugur Ikizler of Mudanya - Bursa / Turkey; from JP Slavinsky of Reno, Nevada.
---
Comet 8P/Tuttle Photo Gallery
[World Map of Comet Sightings]
[sky map] [comet cameras] [ephemeris] [orbit]