Where's Saturn? Is that a UFO--or the ISS? What's the name of that star? Get the answers from mySKY--a fun new astronomy helper from Meade.

PHOTOGENIC SUNSPOT: New sunspot 982 is growing rapidly and "it has developed into a stunning active region," says solar photographer Greg Piepol of Rockville, Maryland. Particularly beautiful are two dark magnetic filaments emerging from the sunspot's core. One of them is "the longest filament I have ever seen," reports Paul Haese from his backyard observatory in Blackwood, South Australia. So far this photogenic sunspot poses no threat for strong solar flares; stay tuned for updates.

MORNING SKY ALERT: This morning, sky watchers around the world marveled at a pair of celestial headlights beaming through the rosy glow of dawn. It was Venus and Jupiter in conjunction; the two brightest planets in the solar system converged on February 1st so close together (1 degree) you could hide them with the tip of your pinky finger held at arm's length.
Photographer Sabahattin Bilsel sends this image from the Turkish Riviera: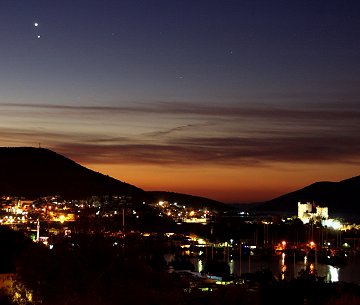 The planets were fantastic "beaming down over the Bodrum Castle and Harbour," he says. "I used a Nikon D70 to take this 8 second exposure at ISO 200."
The February 1st alignment kicks off four mornings of beautiful views as the crescent Moon moves in to join Venus and Jupiter over the weekend. Watch them decorate the sunrise on February 1st, 2nd, 3rd and 4th.
more images: from Mariano Ribas of Buenos Aires, Argentina; from Francisco J Godinez of Guadalajara, Mexico; from Becky Ramotowski of Tijeras, New Mexico; from Steve Hollar of Lake Elsinore, California; from Antonio Sofia of Ganzirri, Messina, Italy; from Madeline Dietrich of Texas City, Texas; from David Campbell at the University of Hertfordshire, Hatfield, UK; from Ivan Luís of Rio de Janeiro, Brazil; from Brian Emfinger of Ozark, Arkansas; from Raghu Kalra of New Delhi, India; from Richard Pirko of Southington, Ohio; from Paul Gaylord of San Diego, Ca; from Juan-Camilo Suarez of La Estrella, Colombia;
AURORA WATCH: A solar wind stream hit Earth last night and at the moment of impact scientists in Norway launched a rocket into the aurora borealis. "The solar wind hit perfectly during our launch window," reports Tero Raita from the Andoya Rocket Range where the skies turned vivid green: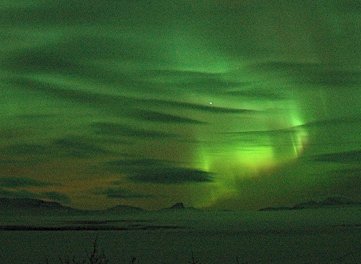 The HotPay2 sounding rocket carried nine scientific instruments 340 km high to study the aurora-forming physics and chemistry of Earth's high atmosphere. The launch was a success, with "a nice auroral arc right in the path of the rocket," says Raita.
Sky watchers from Scandinavia to Alaska should be alert for more auroras tonight. The solar wind stream continues to buffet Earth's magnetic field and it is causing fitful geomagnetic storms.
---
2008 Nacreous Cloud Gallery
[Night-sky cameras] [Nacreous Basics] [Add your comments]