| | | |
| --- | --- | --- |
| ANDROID FLYBYS: Our field-tested satellite tracker is now available for Android phones. Features: Global predictions and flyby alarms! Learn more. | | |
NEW MEXICO FIREBALL: Dawn came early to New Mexico on Saturday around 4:54 am local time when a brilliant meteor exploded near Santa Fe. "It turned night into day," says amateur astronomer Thomas Ashcraft who recorded the fireball using an all-sky video camera: must-see movie. The movie's soundtrack is the signal from a 61 MHz forward-scatter meteor radar also operated by Ashcraft. Ghostly echoes from the meteor's debris continue long after the meteor itself explodes. Listen again.
COMPLEX ERUPTION ON THE SUN: This morning around 0855 UT, Earth orbiting satellites detected a C3-class solar flare. The origin of the blast was sunspot 1092. At about the same time, an enormous magnetic filament stretching across the sun's northern hemisphere erupted. NASA's Solar Dynamics Observatory recorded the action: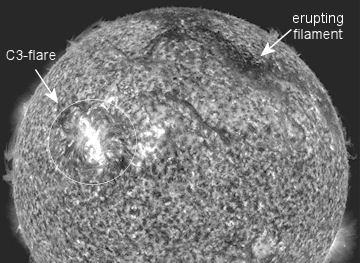 Click to launch a 304 Å movie
The timing of these events suggest they are connected, and a review of SDO movies strengthens that conclusion. Despite the ~400,000 km distance between them, the sunspot and filament seem to erupt together; they are probably connected by long-range magnetic fields. In this movie (171 Å), a shadowy shock wave (a "solar tsunami") can be seen emerging from the flare site and rippling across the northern hemisphere into the filament's eruption zone. That may have helped propel the filament into space.
In short, we have just witnessed a complex global eruption involving almost the entire Earth-facing side of the sun.
A coronal mass ejection (CME) produced by the event is heading directly for Earth: SOHO movie. High-latitude sky watchers should be alert for auroras when it arrives on or about August 3rd.
more images: from Francois Rouviere of Mougins, France; from Rogerio Marcon of Campinas SP Brasil; from Didier Favre of Brétigny-sur-Orge, France; from Cai-Uso Wohler of Bispingen, Germany; from Wouter Verhesen of Sittard, The Netherlands; from Michael Buxton of Ocean Beach, California
CELESTIAL TRIANGLE: When the sun goes down tonight, step outside and look west. Venus, Saturn, and Mars have converged to form a skinny triangle in the sunset sky. Stefano De Rosa sends this picture from the shores of Viverone lake in Turin, Italy: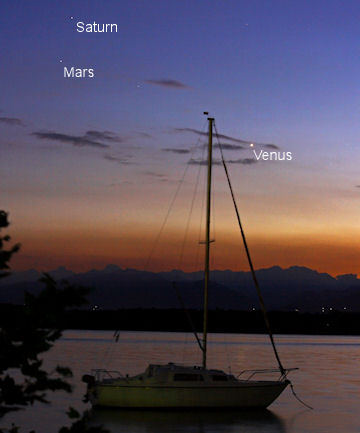 "Superbright Venus popped out of the twilight first, followed minutes later by Mars and Saturn," says De Rosa. "The sight of the lovely celestial triangle over the calm water of the lake was really great!"
The three planets will remain in triangular formation for many nights to come, only the angles will change. Keep an eye on the sunset! Sky maps: August 1, 2, 3, 4, 5, 6, 7, 8
more triangle images: from Ken Scott of Empire, Michigan; from Amirreza Kamkar of Qayen, Khorasan, Iran; from Gary A. Becker of Coopersburg, PA; from Stefano De Rosa of Viverone lake, Turin, Italy; from Richard Glenn of Gold Beach, Oregon; from Adrian New of San Antonio, Texas;
---
Solar Eclipse Photo Gallery
[NASA: South Pacific Eclipse] [animated map]