| | | |
| --- | --- | --- |
| BEHOLD THE SUN: Would you like to see fiery prominences and new-cycle sunspots with your own eyes? On sale now: Personal Solar Telescopes. | | |
REENTRY ALERT: The 1400-lb Early Ammonia Servicer, thrown overboard from the International Space Station in July 2007, is about to reenter Earth's atmosphere. If predictions are correct, the refigerator-sized piece of space junk will descend into Earth's atmosphere and disintegrate in a blaze of light during the early hours of Nov. 3rd. [ground tracks] [flybys]
MAGNETIC PORTALS: Researchers have discovered 'magnetic portals' forming high above Earth that can briefly connect our planet to the Sun. Not only are the portals common, one space physicist contends they form twice as often as anyone had previously imagined. Get the full story from Science@NASA.
BRIGHT LIGHTS AT SUNSET: Halloween is over, but the Halloween sky show continues. Today, Nov. 1st, at the end of the day, look west. You'll see Venus and the crescent Moon shining side-by-side through the pumpkin-orange sunset: sky map.
Tom Soetaert took this picture last night from Lawrence, Kansas: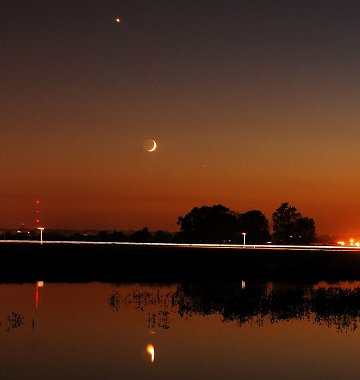 In the full-sized image, Venus, the Moon and even Earthshine (the ghostly image of the full Moon inside the lunar crescent) can be seen reflected in the waters of Clinton Lake. For a bit of fun, try viewing the photo upside down. Trick or Treat?
more images: from Rob Kaufman of Bright, Victoria, Australia; from Kevin Jung of Grand Rapids, Michigan; from Doug Zubenel of De Soto, Kansas; from Mark Marquette of Boone's Creek, Tennessee; from John Welsh of Philadelphia, Pennsylvania; from Ugur Ikizler of Mudanya - Bursa, Turkey; from Robbie Merrill of Mesa, Arizona;
NEW-CYCLE SUNSPOT: Sunspot 1007, which emerged on Halloween, is a member of new Solar Cycle 24. The spot is located at high latitude, as new-cycle sunspots always are, and it has the magnetic polariity expected of a Cycle 24 active region: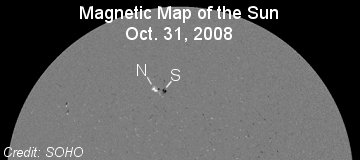 From beginning to end, the month of October had four new-cycle sunspots. They emerged on Oct. 4th, 11th, 17th and 31st. In a year of almost no sunspots, four in a single month is significant. It means that the sun is beginning a slow ascent out of solar minimum to a more active phase of the sunspot cycle. Solar minimum is not a permanent condition! Readers, if you have a solar telescope, train it on sunspot 1007 to witness a sign of things to come.
more images: from Mike Borman of Evansville, Indiana; from Stephen Ames of Hodgenville, Kentucky; from P-M Hedén of Vallentuna, Sweden; from J. Fairfull and J. Stetson of South Portland, Maine; from Peter Paice of Belfast, Northern Ireland; from Pavol Rapavy of Rimavska Sobota, Slovakia;
---
Oct. 2008 Aurora Gallery
[Previous Octobers: 2007, 2006, 2004, 2003, 2002, 2001, 2000]