| | | |
| --- | --- | --- |
| Metallic photos of the sun by renowned photographer Greg Piepol bring together the best of art and science. Buy one or a whole set. They make a stellar gift. | | |
JUPITER AND THE MOON: The Moon and Jupiter are in conjunction tonight, only a few degrees apart. Look for the bright pair rising in the east a few hours after sunset. [sky map] [photo gallery]
CME IMPACT: A coronal mass ejection hit Earth's magnetic field on Oct. 31st around 1530 UT. The impact jolted Earth's polar magnetic field and sparked auroras around the Arctic Circle. Frank Olsen sends this picture from Sortland, Norway:
For a while, the auroras were bright enough to see despite the glare of the nearly-full Moon. "Conditions were excellent for aurora photography," says Olsen. "I captured the Moon with the Pleiades on top and Jupiter to the left. And just over the mountain, Orion was rising."
NOAA forecasters estimate a 30% to 60% chance of continued geomagnetic activity around the poles during the next 24 hours as reverberations from the CME impact wane. Aurora alerts: text, voice.
AMAZING ICE HALO DISPLAY: On Oct. 30th, sky watchers around the Marshall Space Flight Center in Huntsville, Alabama, witnessed something amazing: A complex network of luminous arcs and rings surrounded the afternoon sun. "I've never seen anything quite like it," says eyewitness Bill Cooke, head of NASA's Meteoroid Environment Office. Solar physicist David Hathaway snapped this picture of the display: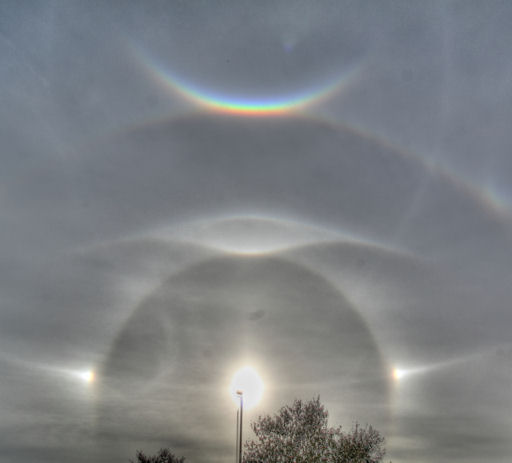 Image credit and copyright: David Hathaway/NASA/MSFC
The apparition is almost certainly connected to hurricane Sandy. The core of the storm swept well north of Alabama, but Sandy's outer bands did pass over the area, leaving behind a thin haze of ice crystals in cirrus clouds. Sunlight shining through the crystals produced an unusually rich variety of ice halos.
"By my count, there are two sun dogs, a 22o halo, a parahelic circle, an upper tangent arc, and a parry arc," says Chris Brightwell, who also photographed the display. "It was amazing."
"Very impressive," agreed onlooker Kyle Winkleman. "This was a once-in-a-decade event for our area."
It might not be necessary to wait another decade for a repeat performance. Some researchers believe that superstorms will become more common in the years ahead as a result of climate change, creating new things both terrible and beautiful to see overhead. Sky watchers in the storm zone should remain alert for the unusual.
UPDATE: Atmospheric optics expert Les Cowley comments on the Sandy-ice halo link: "Over the last few days there have been spectacular halo displays around the edge of Sandy from New England to Alabama. Hathaway's image like many others shows several very rare halo arcs, an upper Lowitz, helic and Parry supralateral."
Realtime Space Weather Photo Gallery
---
---
Realtime Noctilucent Cloud Photo Gallery
[previous years: 2003, 2004, 2005, 2006, 2007, 2008, 2009, 2011]