| | | |
| --- | --- | --- |
| SPACESHIP SIGHTINGS: Would you like a call when the space station is about to fly over your backyard? Sign up for Spaceweather PHONE. | | |
LONG NIGHT'S MOON: There's a full Moon tonight and according to folklore it has a special name--the Long Night's Moon. Most Decembers have just one full Moon, but this December will have two. The Long Night's Moon of Dec. 1st-2nd will be followed by a full "Blue Moon" on Dec. 31st. Stay tuned for more information about the Blue Moon as the end of the year approaches.
RARE MOON HALOS: On Nov. 29th, when the waxing Long Night's Moon ascended over Kittilä, Finland, Timo Veijalainen walked outside and witnessed a once-in-a-lifetime moonrise. "I saw this weird halo," he says. "It didn't start out so bright, but later it intensified and formed a number of different rings. I've never seen anything it!"
Fortunately, he was not too spellbound to take a picture: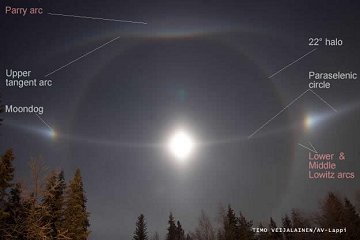 The display was caused by ice crystals floating in the air between Finland and the Moon. Moonlight glinted, reflected, and refracted through the crystals in a complicated pattern that produced a display of surpassing beauty.
Atmospheric optics expert Les Cowley was so impressed, he waxed poetic in describing the scene: "Halos like this around Helios, the ancient Greek sun god, would be notable. Around much fainter Selene, the moon goddess, they are outstanding. We need new names for some of them. On each side of Selene there is a bright and colorful moondog or 'paraselene.' The white halo joining them and passing through the moon is a 'paraselenic circle.'"
"But the two choicest gems illuminated by Selene keep their old names. The very topmost halo is a rare one. It remains a Parry arc in honor of its discoverer the Arctic explorer William Parry, who first saw it around the sun. That's not all. The smudges near the moondogs are very rare lower and middle Lowitz arcs. These were not even photographed around Helios until the 1990s!"
more Moon halos: from Mustafa Erol of Antalya, Turkey; from Max Bittle of Suncook, New Hampshire; from Ethan Tweedie of Brownwood Texas
BIG SPACESHIP: It's wider than a football field, has more than 13,000 sq. ft. of living space, and weighs more than 760,000 Earth-pounds. On top of everything else, it looks great through a telescope. Behold the ISS: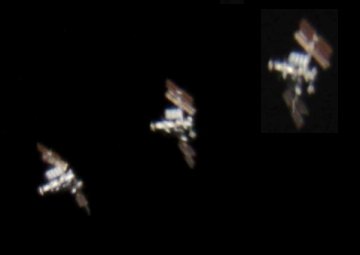 Pete Lardizabal took these pictures on Nov. 28th when the space station flew over his backyard in St Johns, Florida. "I used a 130mm (5 inch) refracting telescope and a Canon 30D digital camera," he says.
No telescope is required, however, to enjoy the ISS. Human eyes do fine. The enormous spaceship reflects enough sunlight to outshine Jupiter or Venus, and it is easy to see in the night sky even from brightly-lit cities. Check the Simple Satellite Tracker for flybys of your home town.
more images: from Ian Mercier of East Angus, Québec, Canada; from Christopher Calubaquib of El Sobrante, California; from Mustafa Erol of Antalya/Turkey; from Keith Geary of Shercock, Co.Cavan, Ireland; from Mark Arzadon of San Jacinto, Pangasinan, Philippines;
---
November Northern Lights Gallery
[previous Novembers: 2008, 2007, 2006, 2004, 2003, 2002, 2001]
---
2009 Leonid Meteor Gallery
[previous Leonids: 1998, 2001, 2002, 2006]
---