GROUNDHOG DAY: Did you know Punxsutawney Phil is an astronomer? He must be. Each year, the furry groundhog emerges from his burrow on a date of astronomical significance: a cross-quarter date, approximately mid-way between a solstice and an equinox. There are four cross-quarter dates throughout the year and each is a minor holiday: Groundhog Day (Feb. 2nd), May Day (May 1st), Lammas Day (Aug. 1st), and Halloween (Oct. 31st). Happy Groundhog Day!
COMET LULIN BRIGHTENS: Veteran sky watcher Mariano Ribas of Argentina has been monitoring Comet Lulin in the skies of Buenos Aires. "In the past ten days, the comet has brightened by almost 60% (half a magnitude) to magnitude +6.5," he reports. "Even with our heavy urban light pollution, the comet is an easy target for small telescopes and binoculars. Soon, I believe, it will become a naked-eye object for people in the country."
"My retired eyes still can't see it," says Jack Newton of Arizona, "but my 14-inch telescope picked it up quite nicely." He took this picture on Feb. 1st:
Comet Lulin is approaching Earth for a 38-millon-mile close encounter on Feb. 24th. Look for it before dawn in the constellation Libra. A date of note is Feb. 6th when the comet passes by double star Zubenelgenubli. Zubenelgenubi is not only fun to say (zuBEN-el-JA-newbee), but also it is a handy guide. You can see Zubenelgenubi with your unaided eye (it is about as bright as stars in the Big Dipper); binoculars pointed at the binary star reveal Comet Lulin in beautiful proximity: sky map.
Comet Lulin Photo Gallery
[Comet Hunter telescope] [sky map] [ephemeris]
ISS SKY SHOW: North Americans, be alert for spaceships after sunset. The International Space Station is making a series of bright flybys over the USA and Canada this week. Here, photographer Ken Scott points it out sailing over the frozen shores of Lake Michigan on Feb. 1st: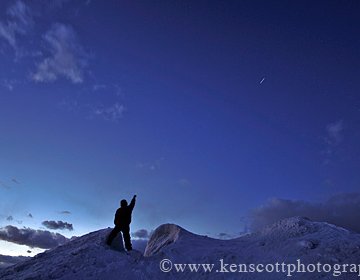 "I recorded the event as a series of still images and stitched them together to make a movie," says Scott. Click here to watch it on YouTube.
The ISS is about as bright as Venus and it is easy to see even before the twilight sky fades to black. Check the Simple Satellite Tracker to find out when to look.
---
Jan. 2009 Aurora Gallery
[Previous Januaries: 2008, 2007, 2005, 2004, 2001]
---