| | | |
| --- | --- | --- |
| SATELLITE FLYBYS APP: Turn your iPhone or iPod into a field-tested satellite tracker! Spaceweather.com presents the Satellite Flybys app. | | |
HUBBLE SEES SUSPECTED ASTEROID COLLISION: NASA's Hubble Space Telescope has observed a mysterious X-shaped debris pattern and trailing streamers of dust that suggest a head-on collision between two asteroids: full story.
NORTHERN LIGHTS FROM SPACE: The solar wind is buffeting Earth's magnetic field and igniting a ring of auroral light around the North Pole. A great place to see the show is Earth orbit. Last night, the US military's DMSP-18 weather satellite photographed the action over northern Europe: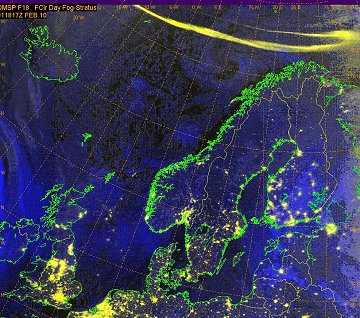 "This night-time image shows a band of aurora borealis north of Norway at 1817 GMT on Feb. 1st," says Paul McCrone, who processed the image at the US Navy's Fleet Numerical Meteorology and Oceanography Center (FNMOC) in Monterey, California.
To the low-light cameras of DMSP-18, the auroras were as easy to see as the city lights of Scandinavia, France and the UK. If that band of light had descended over a populated area, onlookers would have enjoyed quite a display.
Another solar wind stream is en route to Earth and it should be stronger than the one we're experiencing now. High latitude sky watchers and weather satellites should be alert for auroras when the stream arrives on or about Feb. 10th.
HOW BRIGHT IS MARS? It's so bright, you can see it from inside your house. "I was on my way to bed around 10:30pm Sunday night, and as I went to go upstairs I looked up through my skylight," says Malcolm Park of Whitby, Ontario, Canada. "There was Mars beaming in dead center!" He took this picture using a Nikon D3 attached to the banister with a monster grip: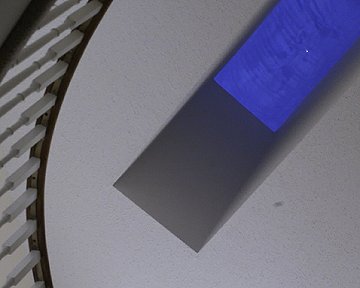 To be precise, Mars is beaming in at visual magnitude -1.3. That makes it 8 times brighter than a first-magnitude star and able to pierce urban window glass with ease. The view is even better outside where Mars outshines every star in the sky (except, by a narrow margin, Sirius) and the rusty-orange color of the "red" planet is apparent to the naked eye: sky map.
But what if it's too cold to go outside? Fortunately, the staircase works, too.
more images: from Alan Friedman of Buffalo, New York; from Efrain Morales Rivera of Aguadilla, Puerto Rico
---
January Northern Lights Gallery
[previous Januarys: 2009, 2008, 2007, 2005, 2004, 2001]