COSMIC RAYS HIT SPACE AGE HIGH: NASA spacecraft are measuring record-high levels of cosmic rays--a side-effect of the deepest solar minimum in nearly a century. This development could have implications for the amount of shielding astronauts need to take when they explore deep space. Science@NASA has the full story.
HARVEST MOON: This weekend's full Moon has a special name--the Harvest Moon. It's the full moon closest to the northern autumnal equinox (Sept. 23). In years past, farmers depended on the light of the Harvest Moon to gather ripening crops late into the night. Post-Edison, we appreciate it mainly for its beauty: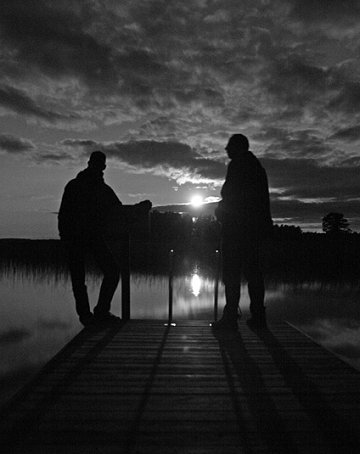 Shown above is last year's Harvest Moon, photographed by P-M Hedén of Hedesunda, Sweden. "It was a lovely sight," he recalls.
When the Moon is Harvest-bright, it often lights up ice crystals and water droplets in high clouds, producing luminous haloes and coronas. Keep an eye out for those beauties, too!
BIG(FOOT) DISCOVERY: NASA's MESSENGER spacecraft has made a stunning discovery. Bigfoot is an extraterrestrial! His tracks have been found on Mercury: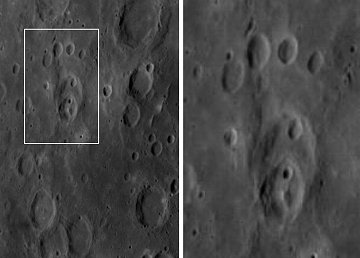 MESSENGER took the picture during a flyby of Mercury on Sept. 29th. The giant paw print was just one of many wonders MESSENGER's cameras saw imprinted on thousands of square kilometers of previously unseen terrain. In this case, a cluster of small craters--"toes"--were by chance arranged in an arc above a stack of larger, partially overlapping craters--the "heel." MESSENGER also photographed a happy crater, a double crater, and a crater splash.
Although early results from the flyby are dominated by pictures of craters, the spacecraft also made new measurements of Mercury's magnetic tornadoes and its comet-like tail. Mission scientists are still analyzing those data, which are more complicated than crater-snapshots and potentially much more interesting. Stay tuned for updates.
---
Sept. 2009 Aurora Gallery
[previous Septembers: 2008, 2007, 2006, 2005, 2004, 2002, 2001]
---