| | | |
| --- | --- | --- |
| BEHOLD THE SUN: Would you like to see fiery prominences and new-cycle sunspots with your own eyes? On sale now: Personal Solar Telescopes. | | |
SOLAR ACTIVITY: New-cycle sunspot 1007 is growing again and moreover it is developing a mixed-polarity magnetic field that harbors energy for solar flares. Already, Earth-orbiting satellites have detected a series of minor B-class eruptions. Readers, if you have a solar telescope, point it at this crackling active region.
REENTRY ALERT: Weight: 1400-lb. Size: Like a double-wide refrigerator. It is one big piece of space junk and it is about to re-enter Earth's atmosphere: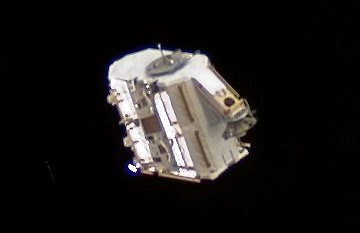 Above: The EAS photographed on July 23, 2007, by ISS astronauts: more.
The Early Ammonia Servicer (EAS), pictured above, was thrown overboard from the International Space Station on July 23, 2007. Originally used as an ammonia reservoir for the space station's cooling system, it was rendered obsolete by upgrades and jettisoned to make room for new hardware.
The orbit of the EAS has been decaying since the reservoir was discarded. If predictions are correct, the EAS will descend into Earth's atmosphere and disintegrate in a blaze of light during the early hours of Nov. 3rd. Uncertainties in the exact re-entry time are so great (plus or minus 15 hours) that it is impossible to pinpoint where the fireball will appear. Every continent except Antarctica has some potentially favorable ground tracks. Check the Satellite Tracker for overflights, but don't put too much faith in the predictions. Orbital elements are changing rapidly as the EAS skims the top of Earth's atmosphere.
Stay tuned for updates!
BRIGHT LIGHTS AT SUNSET: Tonight, Nov. 2nd, when the sun sets, go outside and look southwest. Jupiter, the crescent Moon and Venus are making a Euclidian pattern in the sky. Doug Zubenel saw the line forming last night from De Soto, Kansas: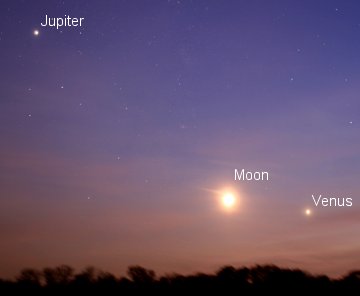 "What a striking scene," he says. "I took the picture using my Canon Rebel XTi--a 150 second exposure at ISO 100."
The Moon is moving away from Venus and toward Jupiter. On Monday evening, Nov. 3rd, Luna and Jupiter converge to form an eye-catching pair less than 3o apart: sky map. You won't want to miss that, so keep an eye on the sunset as the new week begins.
more images: from William McMullen of Orleans, Ontario, Canada; from John Stetson of Sebago Lake, Maine; from Antonio Finazzi of Grumello del Monte, Bergamo, Italy; from Mustafa Erol of Antalya, Turkey; from P. Nikolakakos of Sparta, Greece; from Tamas Ladanyi of Balatonfuzfo, Hungary; from Mike O'Leary of El Cajon, CA; from Rob Kaufman of Bright, Victoria, Australia;
---
Oct. 2008 Aurora Gallery
[Previous Octobers: 2007, 2006, 2004, 2003, 2002, 2001, 2000]