| | | |
| --- | --- | --- |
| NEW AND IMPROVED: Turn your iPhone or iPod Touch into a field-tested global satellite tracker. The Satellite Flybys app now works in all countries. | | |
MUST-SEE ROCK VIDEO: Moonlighting NASA engineers have helped build an extraordinary Rube Goldberg contraption for the rock band OK Go. Watch the video. Done? Go back and read the fascinating comments of the engineers printed beneath the video. Rock n' roll may never be the same.
NLC SEASON BEGINS: Recent data from NASA's AIM spacecraft show that noctilucent clouds (NLCs) are like a great "geophysical light bulb." They turn on every year in late spring, reaching almost full intensity over a period of no more than 5 to 10 days. News flash: The bulb is beginning to glow. Jesper Grønne photographed a bank of NLCs rippling over Silkeborg, Denmark, on June 1st: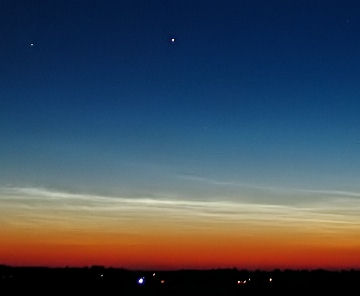 "I made a 3-hour movie of the phenomenon," says Grønne. "There was a lot of activity." Lars Zielke of Tvis, Denmark, witnessed the same display. "They were visible due north near the horizon. The clouds were not spectacular compared to others I've seen, but it's a start."
There is a well-known correlation between noctilucent clouds and the solar cycle. NLC activity tends to peak during (and just after) years of solar minimum, possibly because low solar activity allows the upper atmosphere to cool, promoting the growth of ice crystals that make up the clouds. With the sun slowly emerging from a century-class minimum, the stage could be set for a good season of NLC watching.
Typically, the first NLCs of spring are wan and pale, followed by better displays as summer unfolds. Browse the galleries from previous years to see what may be in the offing: 2009, 2008, 2007, 2006, 2005, 2004, 2003.
Observing tips: Look west 30 to 60 minutes after sunset when the Sun has dipped 6o to 16o below the horizon. If you see luminous blue-white tendrils spreading across the sky, you may have spotted a noctilucent cloud.
FAST-GROWING SUNSPOT: Sunspot 1076 has tripled in size since yesterday and now poses a growing threat for C-class solar flares. Cai-Uso Wohler sends this picture of the active region from Bispingen, Germany: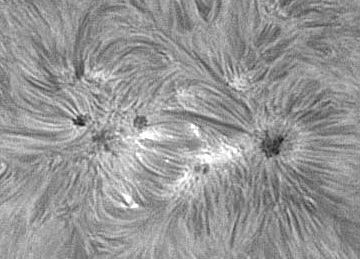 Each of the dark cores in Wohler's image is about the size of Earth. That's why the active region is such an easy target for backyard solar telescopes. Monitoring is encouraged.
more images: from Rogerio Marcon of Campinas SP Brasil; from Steve Wainwright of Gower S. Wales UK; from Pete Lawrence of Selsey, West Sussex, UK; from Alan Friedman of Buffalo, NY;
---
May 2010 Aurora Gallery
[previous Mays: 2008, 2005, 2004, 2003, 2002] [aurora alerts]