TAURID METEOR SHOWER: Earth is entering a stream of debris from periodic Comet 2P/Encke, and this is causing the annual Taurid meteor shower. The shower has a broad maximum lasting from Nov. 5th through 12th. At most, only about 5 Taurids per hour streak across the sky, but what they lack in number they make up for in dazzle. Taurid meteors tend to be fireballs, very bright and slow. Look for them falling out of the constellation Taurus during the hours around midnight. [sky map]
meteor images: from John Chumack of Dayton, Ohio
NOT-SO-BLANK SUN: Today, the sunspot number is zero, which means the sun is blank, right? Wrong. This morning, NASA's STEREO-A spacecraft photographed sunspot 1029 seething with activity over the sun's western horizon: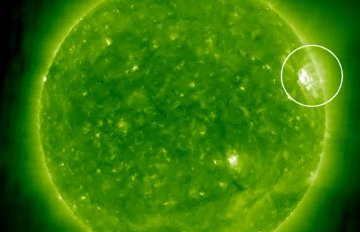 Photo credit: STEREO Extreme Ultra Violet Telescope (195 A)
This impressive sunspot, which rotated over the sun's western limb three days ago, does not add to the sunspot number because it is no longer visible from Earth. Astronomers only count spots that are on the Earth-facing side of the sun. That's how it's been done since Rudolph Wolf invented the sunspot number in 1848. In those days, only one side of the sun was visible from Earth, so the tradition was established.
Now, however, for the first time in the history of astronomy, NASA's twin STEREO spacecraft are seeing over the sun's horizon, tracking sunspots that officially "don't count." The two spacecraft are moving toward opposite sides of the sun, and by February 2011 the entire sun will be under their watchful eyes. Perhaps it is time to start thinking about a "whole sun" sunspot number. As today's image shows, the sun is not always as blank as it appears to be.
FULL FROSTY MOON: According to folklore, last night's full Moon was the "Frosty Moon." Its one of the highest and brightest full Moons of the year in the northern hemisphere. In the Kurdistan region of Iraq, Azhy Chato Hasan photographed the silver orb framed by the leaves of a moonlit eucalyptus tree: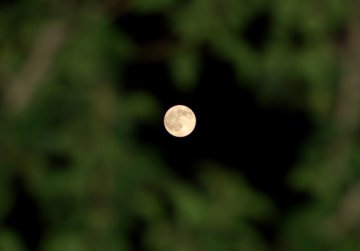 Elsewhere around the world, the Frosty Moon was framed by different things: an ice halo, a colorful corona, a bank of eerie clouds. Browse the links below for even more variety.
more images: from Jeff Warvel of Carmel, Indiana; from Mike Holloway of Van Buren, Arkansas; from Pieter-Jan Dekelver at the National Park Hoge Kempen in Maasmechelen, Belgium; from Daisuke Tomiyasu of Ahiya, Hyogo, Japan; from Louis Suarato of Albany, NY; from Arman Golestaneh of Boshrouye, Iran
---
October Northern Lights Gallery
[previous Octobers: 2008, 2007, 2006, 2004, 2003, 2002, 2001]
---