| | | |
| --- | --- | --- |
| SATELLITE FLYBYS APP: Turn your iPhone or iPod into a field-tested satellite tracker! Spaceweather.com presents the Satellite Flybys app. | | |
KEPLER'S NEW EXOPLANETS: NASA's Kepler space telescope, designed to find Earth-like planets around distant stars, has found its first five exoplanets. Get the full story from Science@NASA.
COMET TOAST: The solar system has one less comet. The subtraction occurred yesterday when a bright comet discovered by NASA's STEREO-A spacecraft plunged toward the sun and evaporated. The Solar and Heliospheric Observatory (SOHO) had an excellent view of the encounter. Click on the image to set the scene in motion: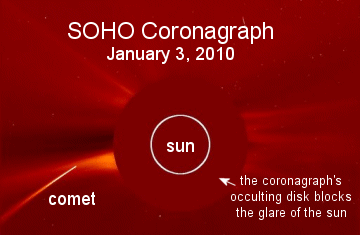 Latest movies: gif, mpeg-4, m4v
One "dirty snowball" went in; none came out. The doomed comet was a member of the Kreutz sungrazer family. Named after a 19th century German astronomer who studied them in detail, Kreutz sungrazers are fragments from the breakup of a giant comet at least 2000 years ago. Several of these fragments pass by the sun and disintegrate every day. Most are too small to see but occasionally a big fragment--like this one--attracts attention.
Credit: The comet was found on Jan. 2nd by Australian amateur astronomer Alan Watson, who was inspecting images obtained by STEREO-A's Heliospheric Imager on Dec. 30, 2009.
TALLEST MAN-MADE SHADOW: Today the world's tallest skyscraper officially opens in the United Arab Emirates (UAE). "The Burj Dubai is 2,684 ft (818 m) tall, making it the tallest man-made structure in history," says traveling photographer Brian Whittaker. "That means it is now officially casting the tallest man-made shadow." He snapped this picture using his iPhone.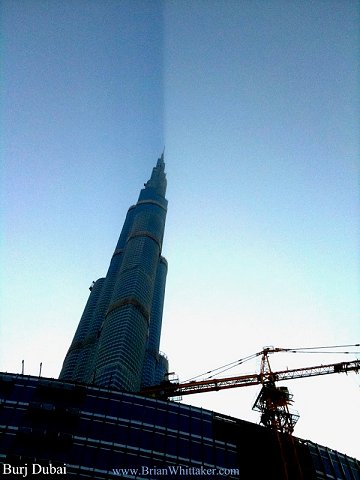 "The contrasting shadow is easily visible when looking up from behind the skyscraper," he says. "This is a new phenomenon for Dubai."
more shadows: from Yoko Akiya at Mt. Fuji, Shizuoka, Japan; from Alan C Tough of Elgin, Moray, Scotland; from Rijk-Jan Koppejan of Middelburg, The Netherlands; from Christopher Go of Cebu City, Philippines; from Team Baader Planetarium near Wuhan, China; from Mila Zinkova at the Marine Headlands, California; from Omer Anil Nayir of Beykoz, Istanbul, Turkey; from Alan Dyer of Alberta, Canada; from Vincent Phillips of Hale, UK; from Stefano De Rosa of Villefranche, France;
---
December Northern Lights Gallery
[previous Decembers: 2008, 2007, 2006, 2005, 2001, 2000]
---