| | | |
| --- | --- | --- |
| Metallic photos of the sun by renowned photographer Greg Piepol bring together the best of art and science. Buy one or a whole set. They make a stellar gift. | | |
SLIGHT CHANCE OF AURORAS: NOAA forecasters estimate a 15% chance of geomagnetic activity around the Arctic Circle today in response to an incoming solar wind stream. High latitude sky watchers should be alert for auroras mixed with waxing-full moonlight. Aurora alerts: text, voice.
FLAT-LINED: With none of the sunspots on tthe Earthside of the sun actively flaring, the sun's X-ray output has flatlined, as shown in these data from NOAA's GOES15 satellite: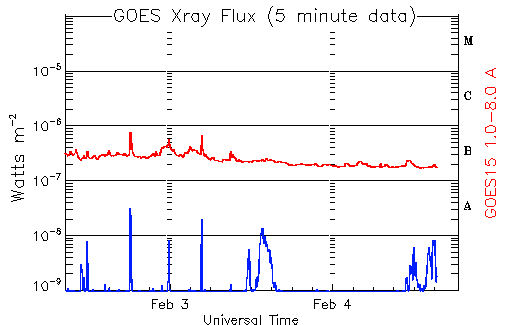 Solar activity is expected to remain very low throughout the weekend. NOAA forecasters estimate no more than a 1% chance of M-class flares during the next 24 hours. Solar flare alerts: text, voice.
BE ALERT FOR MOON HALOES: With the full Moon less than a week away, now is the time to be alert for Moon haloes. Tom Soetaert photographed this spooky specimen over Lawrence, Kansas, on Feb. 2nd: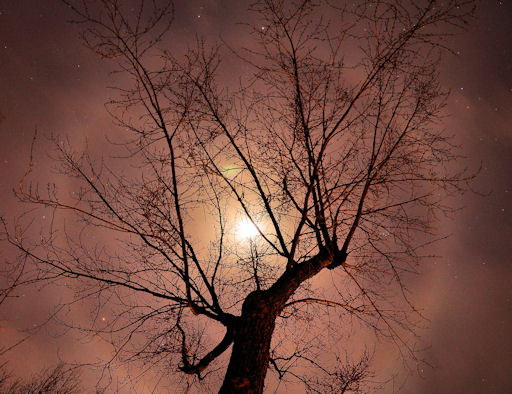 Moon halos are formed by ice crystals in high clouds, which catch moonbeams and bend them as shown. The brighter the Moon, the brighter the Moon halo, so any halos this weekend should be very bright indeed. The Moon is full on Feb. 7th. Browse the links below for more examples of what's in store.
more images: from Chris Cook of Cape Cod, Massachusetts; from Joni Niemelä of Western Finland; from Mike Peters of Green Bay, Wisconsin; from Tamas Ladanyi of Veszprem (Hungary); from Schmaus Thomas of Oberbernbach, Bavaria, Germany; from Domenico Licchelli of Gagliano del Capo, Italy; from Primoz Kuk of Sempeter pri Gorici, Slovenia; from Dr. Salvador Aguirre of Hermosillo, Sonora, Mexico; from György Soponyai of Dunakeszi, Hungary
COMET-CLUSTER CLOSE ENCOUNTER: On February 3rd, Comet Garradd (C/2009 P1) sailed just 0.5 degrees from globular cluster M92 in Hercules. Italian astronomer Rolando Ligustri photographed the encounter using a remotely-controlled 106 mm telescope in New Mexico: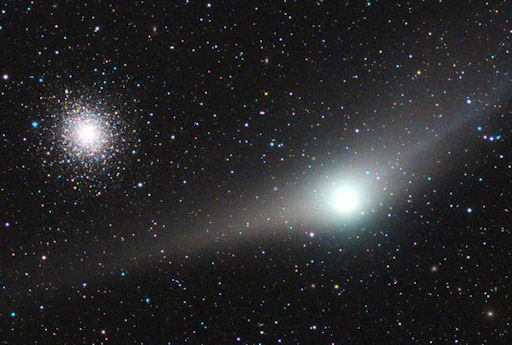 The full-sized image shows the comet's fan-shaped dust tail, which roughly traces the comet's orbit, and its pencil-thin gas tail, which points almost directly away from the sun due to the action of the solar wind.
Although the comet is now receding from the cluster, observers with wide-field telescopes can frame the pair in a single exposure for several mornings to come. They are located in the constellation Hercules, high overhead in northern hemisphere skies before sunrise. Sky and Telescope offers a sky map of the comet's path. Observers with computerized GOTO telescopes can track the comet by plugging in orbital elements from the Minor Planet Center.
At the moment, Comet Garradd has an astronomical magnitude of +6.5, invisible to the naked eye but an easy target for backyard telescopes. Forecasters expect it to brighten by a factor of ~2 in the weeks ahead as the comet approaches Earth for a 1.3 AU close encounter in early March. This could be a good time to invest in a Comet Hunter.
more images: from Ernesto Guido, Giovanni Sostero & Nick Howes using a remote-controlled telescope in New Mexico; from Paul Mortfield of Sierra Remote Observatories, California; from Gregg Ruppel of Ellisville, MO; from Alan C Tough of Elgin, Moray, Scotland; from Jean Jacquinot of Aix en Provence, France; from Gary Meehan of Sacramento Mountains, New Mexico; from Michael Kunze of Moers, Germany; from Dave Eagle of Higham Ferrers, UK;
---
January 2012 Aurora Gallery
[previous Januaries: 2010, 2009, 2008, 2007, 2005, 2004]
---
Comet Lovejoy Gallery
[previous comets: McNaught, Holmes, Lulin, Tuttle, Ikeya-Zhang]