| | | |
| --- | --- | --- |
| Are we alone? Your iPhone has the answer. Download the all-new Drake Equation app to calculate the population of the Milky Way. | | |
BRIGHT CME: NASA twin STEREO spacecraft observed a spectacular coronal mass ejection launched from the vicinity of decaying sunspot 1176 on April 3rd around 0500 UT. The blast was not Earth directed. Nevertheless, there is a chance that the expanding cloud will deliver a glancing blow to Earth's magnetic field on or about April 6th. CME movies: STEREO-A, STEREO-B.
DEEP SKY AURORAS: This weekend, April 2-3, Northern Lights spilled across the Canadian border into the United States with sightings as far south as Wisconsin, Minnesota, and Michigan. To the naked eye, the auroras were mostly pale-white, but exposures of 10 or more seconds with off-the-shelf digital cameras revealed spectacular color. Brian Larmay sends this picture from Pembine, WI: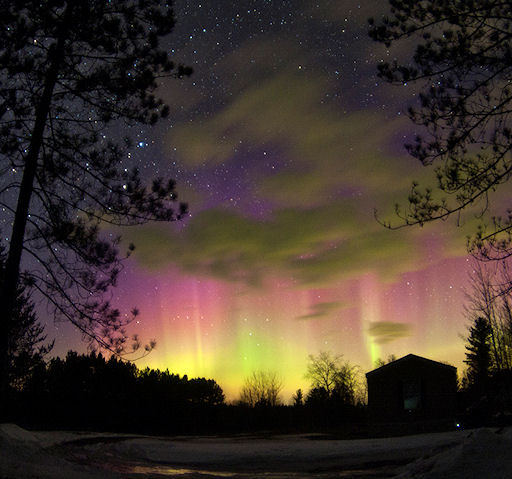 "It has been a while since the auroras visited my latitude. Finally, the dry spell is over!" says Larmay. "Although dim, the lights showed up rather well on my Canon 40D."
These are called "deep sky auroras" because like other deep-sky objects (e.g., galaxies and nebulae) they are best seen using optics and timed exposures. More of them could be in the offing. For the third night in a row, a solar wind stream is buffeting Earth's magnetic field. Moreover, the Moon is new, so the night sky is dark enough for long exposures. Photographers, grab your cameras and be alert for auroras.
A note to Spaceweather PHONE subscibers: Deep-sky auroras occur mainly during weak geomagnetic storms. To maximize your chances of photographing the phenomenon, log into your Spaceweather PHONE account and reduce your Kindex alert threshold to 5. If you've forgotten how to adjust your settings, contact our help desk.
NEW: April 2011 Aurora Gallery
[previous Aprils: 2010, 2009, 2008, 2007, 2006, 2005, 2004, 2003, 2002]
SECRET SPACE PLANE FLARES: The US Air Force's X-37B space plane is circling Earth and, although it is on a classified mission with an officially unpublished orbit, sky watchers have spotted it. "I saw the X-37B from my home in Pasadena, California, around sunrise on March 31st," reports Anthony Cook of the Griffith Observatory. "The spacecraft's appearance was remarkable. When overhead it was a little brighter than a 2nd magnitude star with a slight yellow hue. Then it flared. As the X-37B moved toward the horizon it became silvery and brightened to around magnitude -6, far outshining Venus below it." The flare was presumably caused by sunlight glinting from some flat surface on the shuttle-shaped spacecraft, but no one can say for sure because it is a classified mission. Ready for a secret flare of your own? Space plane flyby preditions may be found on the Simple Satellite Tracker or on your cell phone.
SATURN'S RINGS SURGE IN BRIGHTNESS: This Sunday, April 3rd, Saturn is "at opposition"--that is, opposite the sun in the skies of Earth. Whenever this happens, Saturn's rings surge in brightness. Why? Scroll down for the explanation; on the way, inspect this photo taken by Paul Haese of South Australia on March 30th: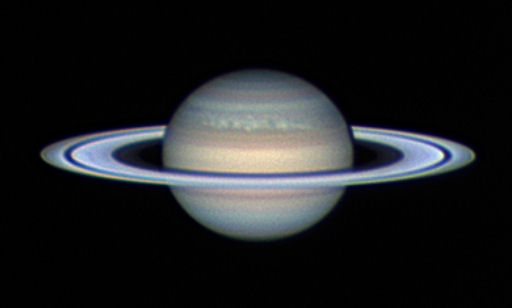 "This is how Saturn looked through my 14-inch telescope," says Haese. "With opposition so close, the Seeliger effect is really starting to show itself. The rings are much more spectacular than in previous years."
The Seeliger effect, also known as the opposition effect, is what brightens the rings. Saturn's rings are made of frozen chunks ranging in size from dust to houses. Sunlight directly backscattered from those ice particles causes the ring system to shine even more than usual for a few days around opposition. The exact mechanism involves shadow-hiding and possibly coherent backscattering.
To find Saturn, go outside at midnight and look for a conspicuous yellow "star" in the constellation Virgo. Even a small telescope will show Saturn's brightening rings. [sky map]
more images: from Efrain Morales Rivera of Aguadilla, Puerto Rico; from Christopher Go of Cebu City, Philippines