COSMIC RAYS HIT SPACE AGE HIGH: NASA spacecraft are measuring record-high levels of cosmic rays--a side-effect of the deepest solar minimum in nearly a century. This development could have implications for the amount of shielding astronauts need to take when they explore deep space. Science@NASA has the full story.
HARVEST MOON: Tonight's full Moon has a special name--the Harvest Moon. It's the full moon closest to the northern autumnal equinox (Sept. 22). In years past, farmers depended on the light of the Harvest Moon to gather ripening crops late into the night. Electric lights have since replaced it, but the Moon could still do the job if called upon: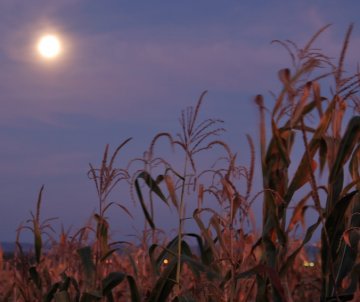 Catalin M. Timosca took the picture last night from a moonlit cornfield in Turda, Romania. "I used a Nikon D40X," she says.
Half a world away in Tijeras, New Mexico, "the Harvest Moon was escorted by a blanket of pink fluffy clouds as it rose above the tree line," reports Becky Ramotowski, who photographed the glowing landscape. "Now I really feel like Fall is here."
more images: from Doug Zubenel of Kansas City, Missouri; from Azhy Chato Hasan of Erbil city, Kurdistan Region, Iraq; from Bryan Murahashi of San Jose, California; from Tamas Ladanyi of Marko, Hungary; from Will Wickham of Horseheads, New York; from Miguel Claro of Almada, Lisboa - Portugal; from Stefano De Rosa of Turin, Italy; from Mark Staples of Little Lake Santa Fe in Waldo,Fla; from Fredrik Broms of Kvaløya, Norway; from Jaroslav Patuc of Visnove, Slovakia; from Marko Posavec of Koprivnica, Croatia; from John C McConnell of Maghaberry, Northern Ireland; from Daisuke Tomiyasu of Ashiya, Hyogo, Japan; from Jason Lee of Washington, DC; from M-P Markkanen of Kuusamo, Finland; from Tavi Greiner of Shallotte, NC; from Nazlı Cetinok Arun of Istanbul, Turkey
MEANWHILE ON THE SUN: Astronomers are monitoring an arch-shaped prominence dancing along the limb of the sun. "It is several times wider than Earth," notes Greg Piepol of Rockville, Maryland, who recorded this view through his Coronado SolarMax90: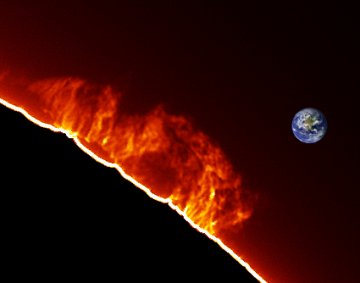 Michael Buxton of Ocean Beach, California, has made a must-see movie of the prominence. "It was quite large and very pleasing to view as it danced in the chromosphere. The movie shows 1 hour and 45 minutes of action."
Readers with solar telescopes, train your optics on the sun's northwestern limb.
more images: from John Minnerath of Crowheart, Wyoming; from Mike Borman of Evansville, Indiana; from Steve Riegel of Santa Maria, California; from Fabio Mariuzza of Biauzzo - Italy; from Peter Paice of Belfast, Northern Ireland; from Mark Townley of Brierley Hill, West Midlands, UK; from Fabio Mariuzza of Biauzzo - Italy
---
Sept. 2009 Aurora Gallery
[previous Septembers: 2008, 2007, 2006, 2005, 2004, 2002, 2001]
---