| | | |
| --- | --- | --- |
| Listen to radar echoes from satellites and meteors, live on listener-supported Space Weather Radio. | | |
QUIET SUN: With no sunspots actively flaring, tthe sun's x-ray outut has flatlined. Solar activity is very low and likely to remain so for the next 24 hours. Solar flare alerts: text, voice.
TAURID FIREBALLS: Sky watchers should be alert for fireballs in the nights ahead. Forecasters say Earth is entering a swarm of gravelly debris from comet Encke. Meteoroids the size of pebbles and small stones hitting Earth's atmosphere at 25 km/s are producing a slow drizzle of very bright fireballs flying out of the constellation Taurus. The display is expected to peak with a few fireballs every hour during the nights of Nov. 5-12.
On Nov. 2nd, Salvador Aguirre photographed a Taurid fireball streaking over Hermosillo, Mexico. Circled, the fireball was even brighter than the nearby Moon:
"Este fue un Gran Fireball!" says Aguirre, who estimates its astronomical magnitude to be -18. This means the fireball was 100 times brighter than a full Moon (magn. -13). To capture the Taurid, he used an All Sky Sentinel camera on loan from the Sandia National Laboratories.
"What always strikes me about the Taurids," notes Bill Cooke of NASA's Meteoroid Environment Office, "is how deeply they penetrate Earth's atmosphere. On average, they make it down to an altitude of 44 miles. Contrast this to the recent Orionids, which burn up at an average altitude of 58 miles. Part of this is due to the speed difference: Taurids are slow (27 km/s) while Orionids are fast (66 km/s). In addition, many Taurids are made up of stronger stuff than the Orionids."
Cooke encourages sky watchers to observe the Taurids and report their fireball counts to NASA using the Meteor Counter app--now available for Apple and for Android devices.
AMAZING ICE HALO DISPLAY: On Oct. 30th, sky watchers around the Marshall Space Flight Center in Huntsville, Alabama, witnessed something amazing: A complex network of luminous arcs and rings surrounded the afternoon sun. "I've never seen anything quite like it," says eyewitness Bill Cooke, head of NASA's Meteoroid Environment Office. Solar physicist David Hathaway snapped this picture of the display: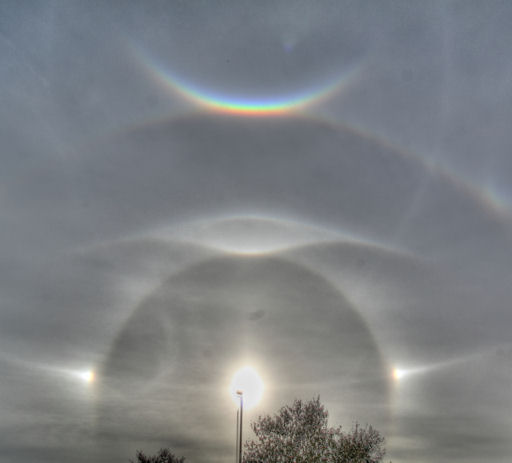 Image credit and copyright: David Hathaway/NASA/MSFC
The apparition is almost certainly connected to hurricane Sandy. The core of the storm swept well north of Alabama, but Sandy's outer bands did pass over the area, leaving behind a thin haze of ice crystals in cirrus clouds. Sunlight shining through the crystals produced an unusually rich variety of ice halos.
"By my count, there are two sun dogs, a 22o halo, a parahelic circle, an upper tangent arc, and a parry arc," says Chris Brightwell, who also photographed the display. "It was amazing."
"Very impressive," agreed onlooker Kyle Winkleman. "This was a once-in-a-decade event for our area."
It might not be necessary to wait another decade for a repeat performance. Some researchers believe that superstorms will become more common in the years ahead as a result of climate change, creating new things both terrible and beautiful to see overhead. Sky watchers in the storm zone should remain alert for the unusual.
UPDATE: Atmospheric optics expert Les Cowley comments on the Sandy-ice halo link: "Over the last few days there have been spectacular halo displays around the edge of Sandy from New England to Alabama. Hathaway's image like many others shows several very rare halo arcs, an upper Lowitz, helic and Parry supralateral."
Realtime Space Weather Photo Gallery
---
---
Realtime Noctilucent Cloud Photo Gallery
[previous years: 2003, 2004, 2005, 2006, 2007, 2008, 2009, 2011]