| | | |
| --- | --- | --- |
| Metallic photos of the sun by renowned photographer Greg Piepol bring together the best of art and science. Buy one or a whole set. They make a stellar gift. | | |
DOUBLE SOLAR ECLIPSE: Not satisfied with an ordinary blow-your-socks-off partial eclipse (see below), celebrated photographer Thierry Legault traveled to the Sultanate of Oman to record a rare double eclipse. For a split-second on Jan. 4th the disk of the sun was partially covered by the Moon and the International Space Station: must-see photos.
CRESCENT SUNRISE: Yesterday, the new Moon passed in front of the sun, slightly off-center, producing a partial solar eclipse and a fantastic crescent sunrise over Europe. Dennis Put sends this picture from Maasvlakte, The Netherlands: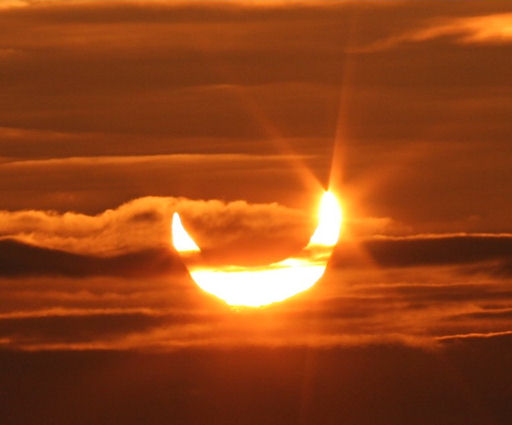 "The eclipse was absolutely stunning!" says Put. "At first some major cloud fronts threatened to hide the event. I was very pleased to meet the two peaks of the crescent Sun rising above the clouds around 9 o'clock."
NEW: Solar Eclipse Photo Gallery
more images: from Willy Schuppert of Amsterdam, the Netherlands; from Tunc Tezel of Ras Lanuf, Libya; from Rob Driessen of Maastricht, the Netherlands; from Jan Koeman of Westerschelde river, the Netherlands; from Wouter Verhesen of Sittard, The Netherlands; from Peter Rosén of Stockholm, Sweden; from Kari A. Kuure of Tampere, Finland; from Luke Broom-Lynne of Norfolk, United Kingdom; from Philippe Van den Doorn of Rixensart, Belgium; from Andrea Aletti of S.Maria del Monte (VA) Italy; from Rob Kantelberg of Sint Oedenrode, The Netherlands; from Robbert-Jan Westerduin of Nijmegen, The Netherlands;
AURORAS AND METEORS: "Wow!" exclaims Fredrik Broms of Kvaløya, Norway. "[Last night], Earth's upper atmosphere got hit full force both by the solar wind, producing some amazing coronas in purple and green, and every now and then by a fragment from shattered comet 2003 EH1, source of the Quadrantid meteor shower." He took this picture using his Nikon D3: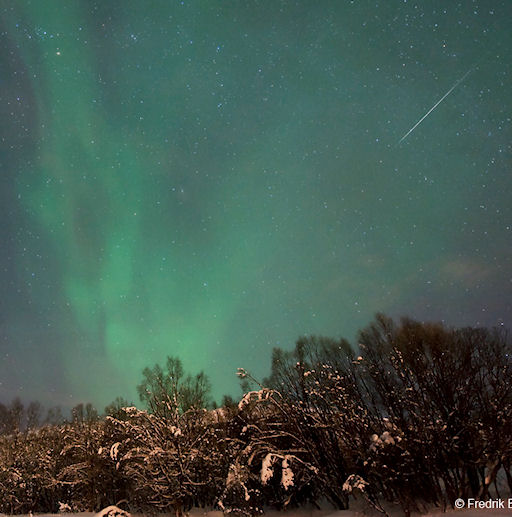 "Bitter cold weather here in northern Norway made the photo-session a bit shorter than I hoped--indeed, my lens was completely covered in ice crystals--but I managed to catch some of the beauty of this cold night," says Broms.
Browse the links below for more snapshots of the first auroras and the first meteor shower of the New Year.
more images: from Yuichi Takasaka of Minnewanka Lake, Banff National Park, Alberta, Canada; from Cesar Cantu of Monterrey, México; from Ørjan Bertelsen of Birtavarre, Kåfjorden, Norway; from Frank Martin Ingilæ of Tana bru, Finnmark, Norway; from Therese van Nieuwenhoven of Laukvik, Lofoten, Norway; from Thomas Achermann of Törmäslompolo, Lapland, Finland; from Yuichi Takasaka of Banff National Park, Alberta, Canada; from James Beauchamp of Oklahoma City, OK;
---
December 2010 Aurora Gallery
[2010 Recap: Jan, Feb, Mar, Apr, May, Jun, Jul, Aug, Sept, Oct, Nov, Dec]
---
Lunar Eclipse Photo Gallery
[NASA: "Solstice Lunar Eclipse"] [astronomy alerts]