| | | |
| --- | --- | --- |
| They came from outer space--and you can have one! Genuine meteorites are now on sale in the Space Weather Store. | | |
CLOSE ENCOUNTER WITH MARS: Today, Mars is at its closest to Earth for 2012. The Red Planet is only 101 million km away and shines about six times brighter than a 1st magnitude star. Look for it in the eastern sky at sunset. The burnt-orange color of Mars is very distinctive, especially when seen from rural areas with clear skies. [sky map] [images: #1, #2, #3]
STRONG SOLAR ACTIVITY: Solar activity is now high. Big sunspot AR1429, which emerged on March 2nd, is crackling with strong flares. This morning brought the strongest so far--an X1-class eruption on March 5th at 0413 UT. NASA's Solar Dynamics Observatory recorded the extreme ultraviolet flash: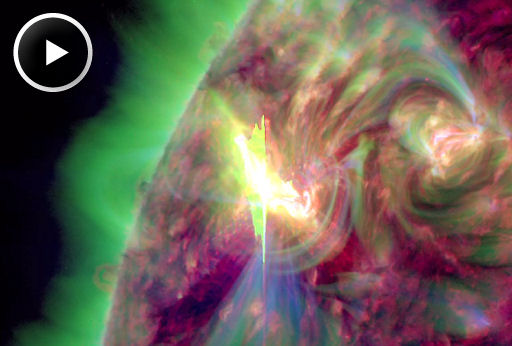 Update: The explosion also hurled a bright CME into space. According to analysts at the Goddard Space Weather Lab, the CME will probably miss Earth, although it will hit Mercury and Venus. An animated forecast track shows the likely progression of the cloud.
Even if this CME misses, high-latitude sky watchers should still be alert for auroras in the nights ahead. An M2-class eruption from the same sunspot on March 4th produced another, wider CME that might yet intersect Earth. The cloud is expected to deliver a glancing blow to our planet's magnetic field on March 6th at 04:30 UT (+/- 7 hr). Auroras alerts: text, phone.
LOOK, THEN TURN AROUND: Just after sunset, as the evening sky fades to blue, Venus and Jupiter emerge from the twilight arrestingly close together in the western sky. Martin McKenna photographed the pair on Saturday night above the moonlit ruins of Downhill Estate in Co. Derry, Northern Ireland: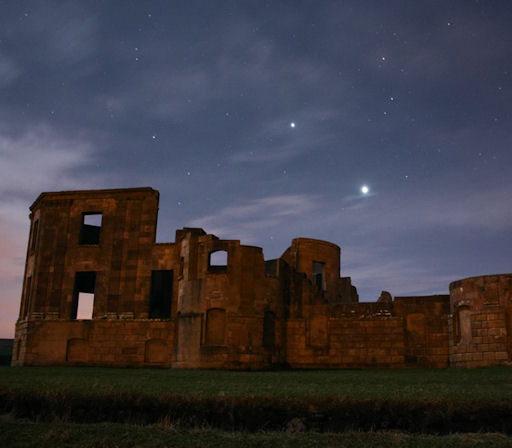 "Venus and Jupiter looked so beautiful," says McKenna, "They were simply stunning!!"
The two bright planets are converging for a 3o close encounter on March 12-13 that NASA says could be physiologically mesmerizing. They are so bright, you can see them through city lights and even thin clouds.
Done looking? Turn around. Another planet, almost as bright and more beautifully colored can be found rising in the east. Mars is putting on a show of its own opposite Venus and Jupiter. The Red Planet is at its closest to Earth for all of 2012 on March 5th. It appears at sunset and soars overhead at midnight--an easy target for the naked eye and backyard telescopes alike. [sky map]
more images: from Vesa Vauhkonen of Rautalampi, Finland; from Monika Landy-Gyebnar at Lake Balaton, Hungary; from Rob Ratkowski of Haleakala summit, Maui; from Petr Horálek of the Academy of Sciences of the Czech Republic;
---
February 2012 Aurora Gallery
[previous Februaries: 2011, 2010, 2009, 2008, 2007, 2006, 2004, 2003, 2002]