| | | |
| --- | --- | --- |
| NEW AND IMPROVED: Turn your iPhone or iPod Touch into a field-tested global satellite tracker. The Satellite Flybys app now works in all countries. | | |
ACTIVE SUNSPOT: New sunspot 1069 is growing rapidly (updated: movie) and crackling with C-class solar flares. Located near the sun's northwestern limb, the sunspot is by far the most active region on the sun. Readers with solar telescopes are encouraged to monitor developments.
RIOTOUS AURORAS: A solar wind gust hit Earth's magnetic field on May 2nd and triggered the longest-lasting geomagnetic storm of the year (so far). At the height of the disturbance, Zoltan Kenwell photographed some "riotous auroras" over a lake near St. Paul, Alberta: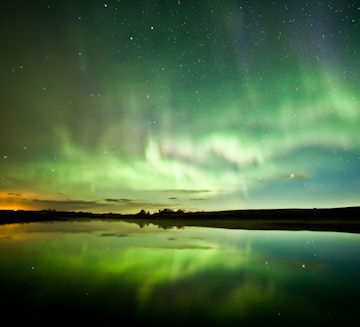 "What a night!" says Kenwell. "In the past I have tried to photograph the auroras stretching from horizon to horizon, but it didn't work out. This time I got it twice--once in the sky and the reflection in the lake."
The solar wind stream that caused the display is subsiding now, but according to NOAA forecasters there is still a 25% chance of geomagnetic disturbances tonight. High-latitude sky watchers should remain alert for auroras.
May 2010 Aurora Gallery
[previous Mays: 2008, 2005, 2004, 2003, 2002] [aurora alerts]
RED RAINBOW: Yesterday in Muncie, Indiana, the sun was just about to set when--"Wow! This red rainbow popped up out of nowhere," reports Mike Hutchinson. "It hung there for about 15 minutes--just enough time to grab my camera and snap a rain-splattered picture."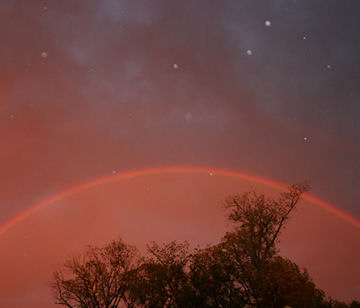 What made the rainbow red? Simple. The sun itself was red. "The sun was low in the west and strongly reddened by atmospheric scattering and ominous-looking clouds," says Hutchinson.
The real question. according to Hutchinson, is why the inside of the rainbow was so much brighter red than the outside. Atmospheric optics expert Les Cowley has the answer: "A rainbow is not just a set of colored rings, but rather a set of colored disks. The sky inside is bright because raindrops direct light there, too." All rainbows have this property, but it is particularly evident when the sky above the 'bow is dark and cloudy--as it was on May 3rd in Muncie, Indiana.
Got sunset, clouds and rain? Be alert for red rainbows!