| | | |
| --- | --- | --- |
| iPHONE VS ANDROID! Actually, it doesn't matter which phone you carry. Our cool, new app turns both smartphones into field-tested satellite trackers. Learn more. | | |
AURORA AUSTRALIS: Not all the lights in the sky this week were Northern. The geomagnetic storm of August 3rd and 4th also triggered a ring of Southern Lights (aurora australis) around Antarctica. Australian researcher Tom Luttrell sends these snapshots from Casey Base on the Antarctic coast.
MORE AURORAS IN THE OFFING? Earth's magnetic field is still reverberating from the CME impact of August 3rd, which sparked auroras as far south as Wisconsin and Iowa in the United States. Analysts believe a second CME is not far behind it, due to arrive on August 5th. A second impact could re-energize the fading geomagnetic storm and spark a new round of Northern Lights. High-latitude sky watchers should remain alert for auroras.
At the height of the August 3rd display "the whole sky over northern Quebec filled with green and purple," says photographer Michel Tournay. "I couldn't decide where to point my camera!" Fortunately, he had a wide-angle lens: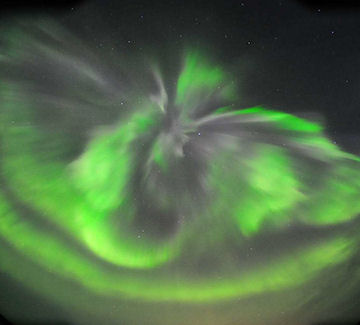 Meanwhile in Ringsaker, Norway, the auroras were so bright "we could see them through clouds, moonlight and midnight sunlight," says Ragnar Johnskås. "It was a lovely show."
Browse the gallery for more!
UPDATED: August 2010 Northern Lights Gallery
[previous Augusts: 2009, 2008, 2007, 2006, 2005, 2004, 2003]
EARLY PERSEID FIREBALL: This week, Earth is entering a stream of dusty debris from Comet Swift-Tuttle, the parent of the annual Perseid meteor shower. We're only in the outskirts of the stream now. The shower won't peak until August 12th and 13th when we're much deeper inside. Nevertheless, sky watchers are already seeing some early Perseids. This one, recorded by a NASA meteor camera in Alabama on August 3rd, was a doozy: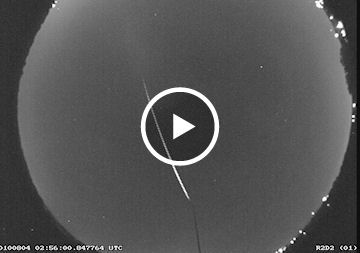 Click to view a 1 MB Quicktime movie
"On Monday night, a Perseid meteoroid, about 1 inch in diameter and traveling at 134,000 mph, entered the atmosphere 70 miles above Paint Rock, Alabama," reports Bill Cooke of NASA's Marshall Space Flight Center. "Moving at such a tremendous speed, the meteor cut a path some 65 miles long above that state, finally burning up 56 miles above Macay Lake. It was 6 times brighter than the planet Venus--a good start to the Perseid meteor shower!"
Stay tuned for more Perseids as Earth moves deeper into the debris stream.
---
Solar Eclipse Photo Gallery
[NASA: South Pacific Eclipse] [animated map]