AURORA WATCH: High-latitude sky watchers should be alert for auroras tonight. Earth is entering a solar wind stream, and the encounter could spark geomagnetic storms around the poles.
THE SUN IS STIRRING: NASA's STEREO-B spacecraft is monitoring an active region hidden behind the sun's eastern limb. On May 5th, it produced an impressive coronal mass ejection (CME, movie) and a burst of Type II radio emissions caused by a shock wave plowing through the sun's outer atmosphere. STEREO-B's extreme UV telescope captured this image during the explosion: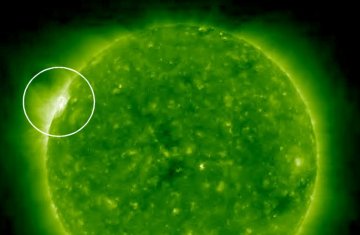 Activity has continued apace today, May 6th, with at least two more eruptions (stay tuned for movies). Furthermore, the most recent UV images from STEREO-B reveal not just one but two active regions: image.
At the root of all this activity is probably a complex of sunspots. The region is not yet visible from Earth, but the sun is turning it toward us for a better view. Readers with solar telescopes should keep an eye on sun's northeastern limb for an emergence on May 7th or 8th.
more images: from Alan Friedman of Buffalo, NY; from Pete Lawrence of Selsey, West Sussex, UK
MASSIVE BUG INVADES JUPITER: Astrophotographer Mike Salway of Central Coast, Australia, has witnessed a shocking event on our solar system's largest planet. "I was imaging Jupiter on the morning of May 2nd," he says. "You can imagine my surprise when a massive bug at least 3 times the size of the Earth invaded the giant planet! Watch the video to see attack unfold."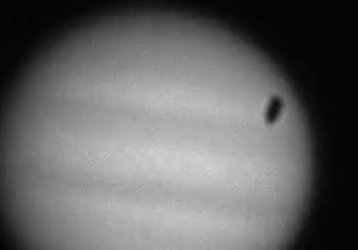 Click to play: avi (0.4 MB) or gif (4 MB)
"Things were looking grim for the Jovians as the creature traversed the gas giant, consuming white spots and feeding on power generated by Jupiter's criss-crossing jet streams," says Salway. "Did the bug wipe out Jupiter, or did the Jovians repel the 6-legged invader?" A follow-up photo taken an hour later revealed Jupiter still intact. "It turns out the invader was just an insect on the mirror of my 12-inch Newtonian telescope."
Update: Tenho Tuomi of Lucky Lake, SK, suggests that "the bug was more likely walking across the CCD. [Judging from the sharp outlines], it has to have been close to a focal point." If the bug was indeed inside the CCD camera, "that would make it a shutter bug," says Bob Burnett of Richland, Washington.
---
April 2009 Aurora Gallery
[previous Aprils: 2008, 2007, 2006, 2005, 2004, 2003, 2002]
---