| | | |
| --- | --- | --- |
| ANDROID FLYBYS: Our field-tested satellite tracker is now available for Android phones. Features: Global predictions and flyby alarms! Learn more. | | |
FARSIDE BLAST: Old sunspot 1082, currently rounding the far side of the sun, erupted during the late hours of July 5th. The Solar and Heliospheric Observatory recorded a CME billowing over the edge of the solar disk (movie) while NASA's STEREO-B spacecraft had a direct view of the explosion itself (movie). The farside location of the blast site means there will be no Earth effects from the event--not this time. The active region will turn to face Earth after July 10th. Stay tuned.
UPDATE: A Solar Dynamics Observatory movie of the farside blast billowing over the sun's limb is now available.
PLUTO AND THE BLACK CLOUD: This week, Pluto is transiting Barnard 92, an inky black cloud of dust in the constellation Sagittarius. "Last night, I photographed the passage using my 16-inch telescope," says John Chumack of Yellow Springs, Ohio. "Pluto was easily visible in a 5 minute exposure."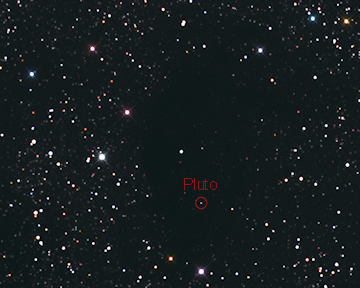 "The dark backdrop made it much easier to pick out the dwarf planet among the busy star field of Sagittarius," he says. Experienced astrophotographers are encouraged to follow Pluto as it makes its lonely crossing--and submit your images here.
more images: from Anthony Ayiomamitis of Athens, Greece; from Bob Runyan of Shelton, Nebraska; from Terry Evans of Exmoor, Somerset, UK; from Alfredo Garcia Jr of Chuchupate Campground area, Lockwood Valley, CA; from Jim Tomaka of Alamogordo, NM
WHIRLPOOL SUNSPOT: "Sunspot 1084 reminds me of the Whirlpool Galaxy (M51)," says astrophotographer Mike Borman. The resemblance is certainly uncanny in this photo he took on July 3rd from his backyard observatory in Evansville, Indiana: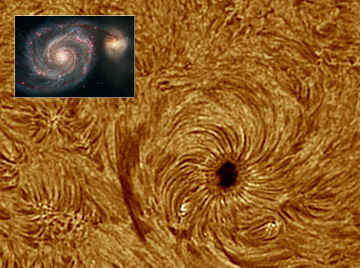 "I used a Coronado SolarMax90 to image the sunspot," says Borman. "The inset of M51 comes from Hubble."
The appearance of the sunspot is shaped by its spiraling magnetic field, which organizes the plasma around it like a whirpool. The configuration seems to be remarkably stable because the sunspot has not produced the slightest hint of a solar flare in many days. Indeed, the whirlpool does not seem to move at all. It is like a giant tornado of hot plasma and magnetism frozen in place.
The sun's rotation is carrying this photogenic spot toward the western limb where it will disappear later this week. Readers with solar telescopes, catch it before it goes!
more images: from Pete Lawrence of Selsey, West Sussex, UK; from Germano Tosi of Moncenisio, Italy; from Peter Desypris on the Island of Syros Greece; from Enrico Colzani and Valter Giuliani of the Sormano Astronomical Observatory, Italy; from Robert Arnold on the Isle of Skye, Scotland
---
Lunar Eclipse Photo Gallery
[Science@NASA: Big Lunar Eclipse] [astronomy alerts]
---
May 2010 Aurora Gallery
[previous Mays: 2008, 2005, 2004, 2003, 2002] [aurora alerts]