| | | |
| --- | --- | --- |
| Metallic photos of the sun by renowned photographer Greg Piepol bring together the best of art and science. Buy one or a whole set. They make a stellar gift. | | |
GEOMAGNETIC STORM UPDATE: A CME propelled toward Earth by this morning's X5-class solar flare is expected to reach our planet on March 8th at 0625 UT (+/- 7 hr). Analysts at the Goddard Space Weather Lab, who prepared the CME's forecast track, say the impact could spark a strong-to-severe geomagnetic storm. Sky watchers at all latitudes should be alert for auroras. Aurora alerts: text, phone.
A mild geomagnetic storm is already underway, following a lesser CME impact on March 7th around 0400 UT. Shortly after the cloud arrived, a burst of Northern Lights appeared over the US-Canadian border. Shawn Malone photographed the display from the shores of Lake Superior: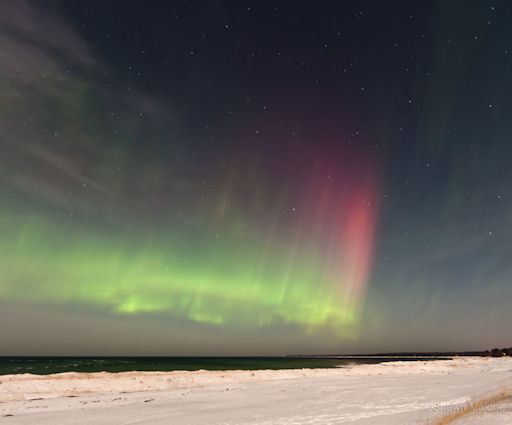 "I was lucky to catch this brilliant outburst of aurora activity that was very active for close to an hour," says Malone, who has also made a time-lapse video of the display. "The aurora had no problem shining through the moonlit skies."
more images: from Eric Frigon of Banff National Park , Alberta, Canada; from John Welling of Ashland,Wisconsin; from Justin Phillips of New Auburn, Wisconsin; from Truls Tiller of Tromsø, Norway; from Stephen Voss of Sandy Point, New Zealand; from Olivier Du Tré of Cochrane, Alberta; from Manu Keggenhoff of Jake's Corner, Yukon, Canada; from Ed Stockard of Sun Mt Lodge, Methow Valley, Washington
MAJOR SOLAR FLARE (UPDATED): Big sunspot AR1429 has unleashed another major flare. This one is the strongest yet, an X5-class eruption on March 7th at 00:28 UT. NASA's Solar Dynamics Observatory recorded the extreme UV flash: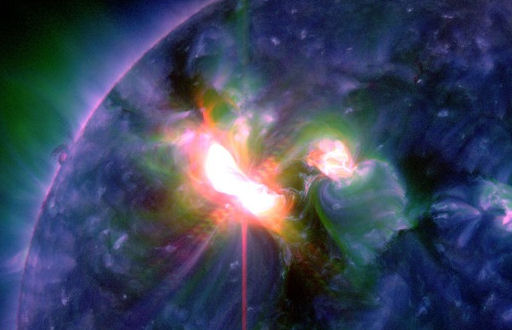 This eruption hurled a bright CME into space, shown here in a movie from the Solar and Heliospheric Observatory. Analysts at the Goddard Space Weather Lab estimate that the CME will reach Earth on March 8th at 0625 UT (+/- 7 hr), possibly triggering a strong-to-extreme geomagnetic storm. An animated forecast track shows the progression of the fast-moving cloud.
The flare also accelerated energetic protons toward Earth, triggering an S3-class solar radiation storm, in progress. Such a storm is mainly a nuisance to satellites, causing occasional reboots of onboard computers and adding noise to imaging systems. Solar flare alerts: text, phone.
THE MOON AND MARS: This week, Mars is at its closest to Earth for all of 2012. The Red Planet is easy to find: On March 7th it's right beside the full Moon. Go outside after sunset and look for the Moon and Mars rising together in the east. [sky map]
Last night in Cobourg, Ontario, photographer Malcolm Park caught the Moon and Mars converging: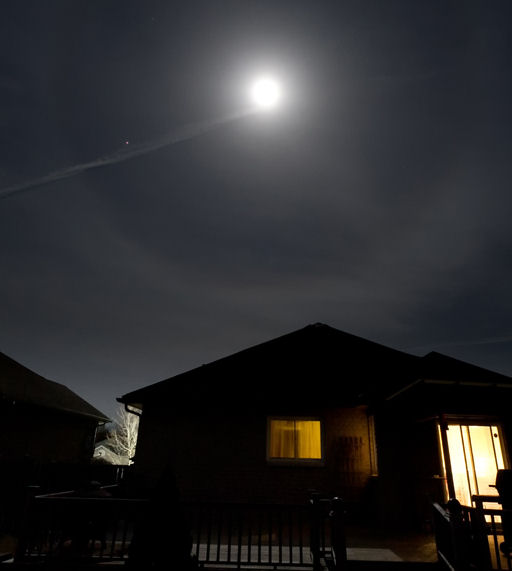 "[High clouds] created this lovely view from my back yard of an ice halo around the moon, with Mars inside punctuated by a high altitude contrail," says Park.
more images: from Gregg Alliss of Cedar Rapids, Iowa; from Luigi Fiorentino of Bari, Italy; from Heiko Ulbricht of Freital, Saxony, Germany; from Mihail of Yaroslavl, Russia; from Charlie Bates Solar Astronomy Project of Atlanta, GA
---
February 2012 Aurora Gallery
[previous Februaries: 2011, 2010, 2009, 2008, 2007, 2006, 2004, 2003, 2002]