ASTRONOMY NIGHT AT THE WHITE HOUSE: Tonight, Oct. 7th, President Barack Obama will host a star party for middle school students on the South Lawn of the White House. Selected amateur astronomers will be on hand to show guests the moons of Jupiter and point out a brilliant Iridium flare. That's about all you can see from the light-polluted skies of Washington DC, but for many attendees, it'll be the experience of a lifetime. Tune into whitehouse.gov for a live webcast.
LUNAR IMPACT: NASA's LCROSS spacecraft and its Centaur booster rocket will hit the Moon on Friday morning, Oct. 9th, at approximately 4:30 a.m. PDT (11:30 UT). The spectacular double-impact will be broadcast live on NASA TV. Can't wait? Click on the image below to watch a computer-generated preview (11 MB Quicktime):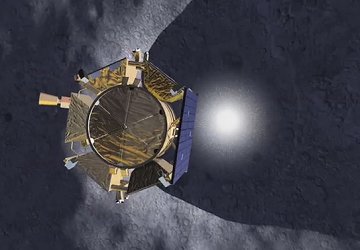 The impacts are designed to unearth frozen water from the cold and shadowy floor of crater Cabeus near the lunar south pole. Moon water is valuable stuff. It costs about $30,000 to rocket a liter of water from Earth to the Moon. If NASA could find water already on the Moon, it would save a lot of money for future thirsty colonists. H2O also can be split into O2 for breathing and H2 for rocket fuel.
Evidence of water will be sought in two plumes of debris that billow out of Cabeus. The Hubble Space Telescope, NASA's Lunar Reconnaisance Orbiter, and several great telescopes on Earth will monitor the plumes for spectral signs of water (H2O) or water fragments (OH). Mission scientists say the plumes might also be visible in backyard telescopes with apertures of at least 10 inches. US observers west of the Mississippi River are favored with darkness and a good view of the Moon when the spacecraft strike. Browse the links below for observing tips:
ITALIAN GLORY: Yesterday, photographers Andrea Alessandrini and Paolo Candy were flying over Italy's Tirrenum Sea when they looked out the window of their airplane and saw this: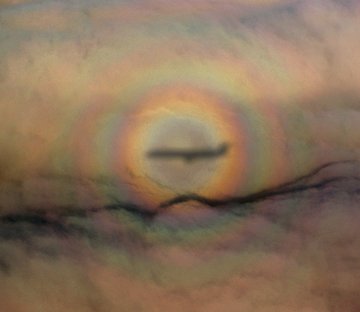 It was a glory--"one of the prettiest I've ever seen," says Candy. And that means something because he's written a book on the subject.
Glories are rings of light around your shadow. They are caused by sunlight reflected backwards from water droplets in clouds. Exactly how backscattering produces the colorful rings is a mystery involving surface waves and multiple reflections within individual droplets. Each sighting is a puzzle--all the more reason to seek them out.
"Glories are often seen from aircraft," notes atmospheric optics expert Les Cowley. "Get a seat opposite the sun and watch them ring the aircraft's shadow." Airplanes are not absolutely required, however. All you really need is a high perch and moist clouds. Look for glories on mountains and hillsides, in sea fog, and even indoors.
more images: from Stephen Thompson flying over St Eustatius in the Dutch Caribbean
---
Sept. 2009 Aurora Gallery
[previous Septembers: 2008, 2007, 2006, 2005, 2004, 2002, 2001]
---