| | | |
| --- | --- | --- |
| Marianne's Heaven On Earth Aurora Chaser Tours Chasethelighttours.co.uk invites you to join them in their quest to find and photograph the Aurora Borealis. Experience the winter wonderland in the Tromsø Area. | | |
MORNING SKY SHOW: Planets are aligning in the morning sky. Look east before sunrise for a beautiful conjunction of Venus and the crescent Moon in the constellation Leo. Mars and Jupiter are there, too. Sky maps: Oct. 8, 9.
SOLAR WIND SPARKS GEOMAGNETIC STORMS: NOAA forecasters estimate an 80% chance of polar geomagnetic storms on Oct. 8th as a high speed solar wind stream buffets Earth's magnetic field. This marks the third day in a row of geomagnetic storms and bright auroras around the Arctic Circle. "Last night we had an awesome display," reports Matti Helin from Finland. "Never had I seen such bright auroras. They lit the whole scenery, and I could have read a magazine with ease." This is one of many pictures he took: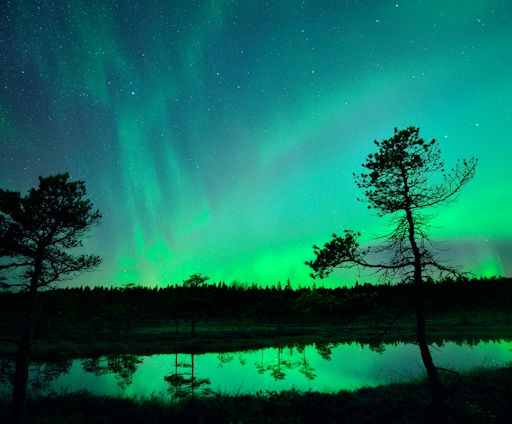 "When the auroras lit up to the extreme, I asked our daughters to come and see them. And boy, were they excited!" he says. "It was the best night ever!"
Many readers are familiar with CMEs, billion-ton clouds of gas from the sun which can cause geomagnetic storms when they hit Earth. This event, however, was not caused by a CME. Instead, the culprit is a CIR (co-rotating interaction region). CIRs are boundary zones between slow- and fast-moving solar wind streams. Solar wind plasma piles up in these regions, producing density gradients and shock waves that do a good job of sparking auroras. A CIR hit Earth's magnetic field during the early hours of Oct. 7th, amplifying a storm already in progress. A solar wind stream arriving in the wake of the CIR has kept the storm going through Oct. 8th. Aurora alerts: text or voice
LUNAR ECLIPSE DETECTS GLOBAL COOLING (BUT ONLY A LITTLE): On Sept. 27th, peopleon five continents watched the Moon pass through the shadow of our planet. Most agreed that the lunar eclipse was darker than usual. Little did they know, they were witnessing a sign of global cooling. But only a little. (continued below)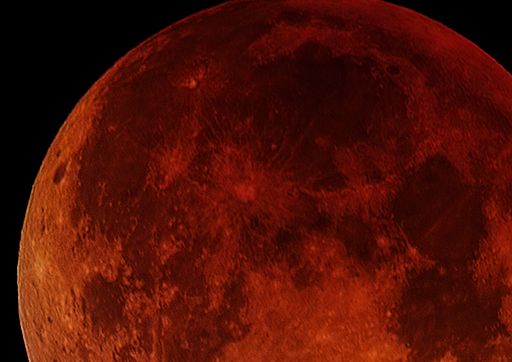 Above: "The eclipse was truly dark," says photographer Giuseppe Petricca of Pisa, Italy
Atmospheric scientist Richard Keen of the University of Colorado explains: "Lunar eclipses tell us a lot about the transparency of Earth's atmosphere. When the stratosphere is clogged with volcanic ash and other aerosols, lunar eclipses tend to be dark red. On the other hand, when the stratosphere is relatively clear, lunar eclipses are bright orange."
This is important because the stratosphere affects climate; a clear stratosphere 'lets the sunshine in' to warm the Earth below. At a 2008 SORCE conference Keen reported that "The lunar eclipse record indicates a clear stratosphere over the past decade, and that this has contributed about 0.2 degrees to recent warming."
The eclipse of Sept. 27, 2015, however, was not as bright as recent eclipses. Trained observers in 7 countries estimated that the eclipse was about 0.4 magnitude dimmer than expected, a brightness reduction of about 33 percent.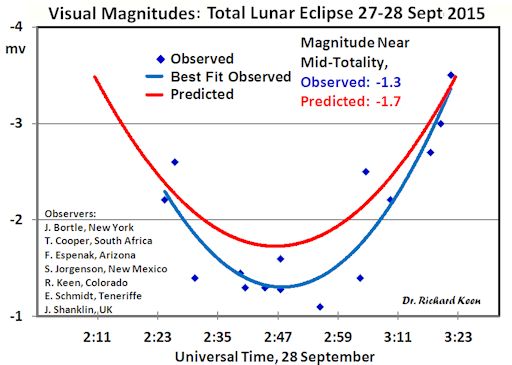 What happened? "There is a layer of volcanic aerosols in the lower stratosphere," says Steve Albers of NOAA. "It comes from Chile's Calbuco volcano, which erupted in April 2015. Six months later, we are still seeing the effects of this material on sunsets in both hemispheres--and it appears to have affected the eclipse as well."
Volcanic dust in the stratosphere tends to reflect sunlight, thus cooling the Earth below. "In terms of climate, Calbuco's optical thickness of 0.01 corresponds to a 'climate forcing' of 0.2 Watts/m2, or a global cooling of 0.04 degrees C," says Keen, who emphasizes that this is a very small amount of cooling. For comparison, the eruption of Pinatubo in 1991 produced 0.6 C of cooling and rare July snows at Keen's mountain home in Colorado.
"I do not anticipate a 'year without a summer' from this one!" he says. "It will probably be completely overwhelmed by the warming effects of El Nino now underway in the Pacific."
This lunar eclipse has allowed Keen measure the smallest amount of volcanic exhaust, and the smallest amount of resultant "global cooling" of all his measurements to date. And that is saying something considering that he has been monitoring lunar eclipses for decades.
"This is indeed the smallest volcanic eruption I've ever detected," says Keen. "It gives me a better idea of the detection capabilities of the system (eclipses plus human observers), so when I go back into the 1800s I can hope to find similarly smallish eruptions in the historical record."
It turns out you can learn a lot by watching the Moon turn red. Browse the gallery for more examples:
Realtime Eclipse Photo Gallery
---
Realtime Space Weather Photo Gallery
---
---
| | |
| --- | --- |
| | Cosmic Rays in the Atmosphere |
Situation Report -- Oct. 8, 2015
Stratospheric Radiation (+37o N)
Cosmic ray levels are elevated (+6.2% above the Space Age median). The trend is flat. Cosmic ray levels have increased +0% in the past month.
Sept. 06: 414 uRad/hr
Sept. 12: 409 uRad/hr
Sept. 23: 412 uRad/hr
Sept. 25: 416 uRad/hr
Sept. 27: 413 uRad/hr
These measurements are based on space weather balloon flights, described below.
Introduction: Once a week, and sometimes more often, Spaceweather.com and the students of Earth to Sky Calculus fly "space weather balloons" to the stratosphere. These balloons are equipped with radiation sensors that detect cosmic rays, a form of space weather important to people on Earth. Cosmic rays can alter the chemistry of the upper atmosphere, seed clouds, spark exotic forms of lightning, and penetrate commercial airplanes. This last point is of special interest to the traveling public. Our measurements show that someone flying back and forth across the continental USA, just once, can absorb as much ionizing radiation as 2 to 5 dental X-rays. From now on we will present the results of our regular weekly balloon flights in this section of our web site. Here is the radiation profile from our latest flight: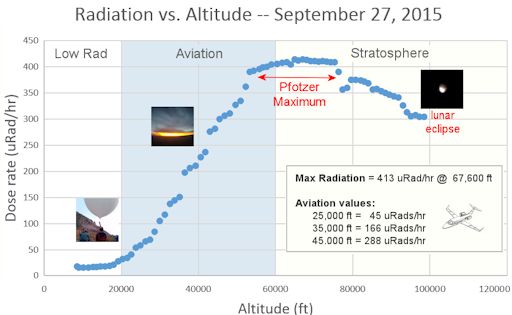 Radiation levels peak at the entrance to the stratosphere in a broad region called the "Pfotzer Maximum." This peak is named after physicist George Pfotzer who discovered it using balloons and Geiger tubes in the 1930s. Radiation levels there are nearly 100x sea level.
Note that the bottom of the Pfotzer Maximim is near 55,000 ft. This means that some high-flying aircraft are not far from the zone of maximum radiation. Indeed, according to the Sept. 27th measurements, a plane flying at 45,000 feet is exposed to 288 uRads/hr. At that rate, a passenger would absorb about one dental X-ray's worth of radiation in 5 hours.
The radiation sensors onboard our helium balloons detect X-rays and gamma-rays in the energy range 10 keV to 20 MeV. These energies span the range of medical X-ray machines and airport security scanners.
Stay tuned for improvements to this section in the days and weeks ahead as we develop a glossary and better plain language strategies for communicating this information. Suggestions are welcomed.
Every night, a network of
NASA all-sky cameras
scans the skies above the United States for meteoritic fireballs. Automated software maintained by NASA's Meteoroid Environment Office calculates their orbits, velocity, penetration depth in Earth's atmosphere and many other characteristics. Daily results are presented here on Spaceweather.com.
On Oct. 8, 2015, the network reported 22 fireballs.
(20 sporadics, 2 Southern Taurids)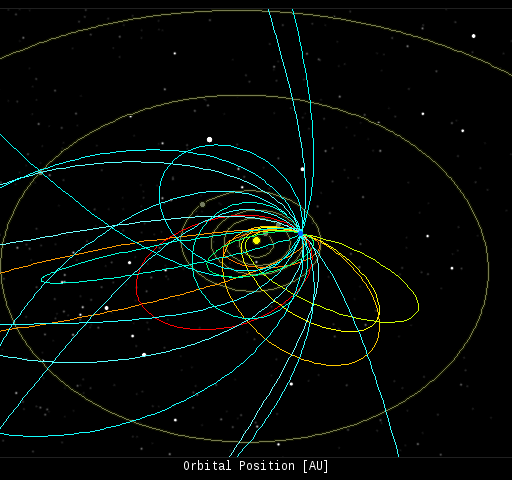 In this diagram of the inner solar system, all of the fireball orbits intersect at a single point--Earth. The orbits are color-coded by velocity, from slow (red) to fast (blue). [Larger image] [movies]
Potentially Hazardous Asteroids (
PHAs
) are space rocks larger than approximately 100m that can come closer to Earth than 0.05 AU. None of the known PHAs is on a collision course with our planet, although astronomers are finding
new ones
all the time.
On October 8, 2015 there were
1617
potentially hazardous asteroids.
Notes: LD means "Lunar Distance." 1 LD = 384,401 km, the distance between Earth and the Moon. 1 LD also equals 0.00256 AU. MAG is the visual magnitude of the asteroid on the date of closest approach.
| | |
| --- | --- |
| | The official U.S. government space weather bureau |
| | |
| --- | --- |
| | The first place to look for information about sundogs, pillars, rainbows and related phenomena. |
| | |
| --- | --- |
| | Researchers call it a "Hubble for the sun." SDO is the most advanced solar observatory ever. |
| | |
| --- | --- |
| | 3D views of the sun from NASA's Solar and Terrestrial Relations Observatory |
| | |
| --- | --- |
| | Realtime and archival images of the Sun from SOHO. |
| | |
| --- | --- |
| | from the NOAA Space Environment Center |
| | |
| --- | --- |
| | the underlying science of space weather |
| | |
| --- | --- |
| | Web-based high school science course with free enrollment |