| | | |
| --- | --- | --- |
| Are we alone? Your iPhone has the answer. Download the all-new Drake Equation app to calculate the population of the Milky Way. | | |
QUIET SUN, STIRRING? After several days of deep quiet, solar activity might tick upward this week with the emergence of a new sunspot group materializing now in the sun's northern hemisphere. An SDO movie of the first 9 hours of May 9th captures the developments. Stay tuned.
PLANETS AT DAWN: No coffee? No problem. To wake up any morning this week, all you need to do is look out the window. Mars, Jupiter, Venus and Mercury are aligning in the eastern sky for a spectacular dawn conjunction. Mariano Ribas took this picture on May 9th from his home in Buenos Aires, Argentina: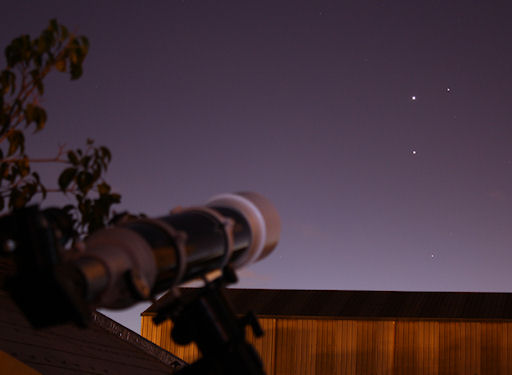 "It was an awesome morning with an unforgettable view: four planets packed in just a 7º piece of sky," says Ribas. "The very compact Venus-Mercury-Jupiter triangle was simply hypnotic. And Mars, below them, was faint but still clearly visible to naked eye. Marvelous planetary gathering, but the best is yet to come."
Indeed, on May 11th, Venus and Jupiter, the two brightest planets in the Solar System, will converge to form a pair less than 1/2 degree apart. Set your alarm for Wednesday morning and begin the day with an eye-opener--no caffeine required.
more images: from Danny Ratcliffe of Deception Bay, Queensland, Australia; from Alan Dyer near San Pedro de Atacama, Chile; from M. Raþid Tuðral of Ankara, Turkiye;
SUN HALOES: On May 6th, sky watchers in Belgium were stunned when they witnessed a heavenly apparition in broad daylight. "It was one of the brightest and most complex displays of sun haloes I have seen in 25 years of observing," reports Philippe Mollet, who took this picture: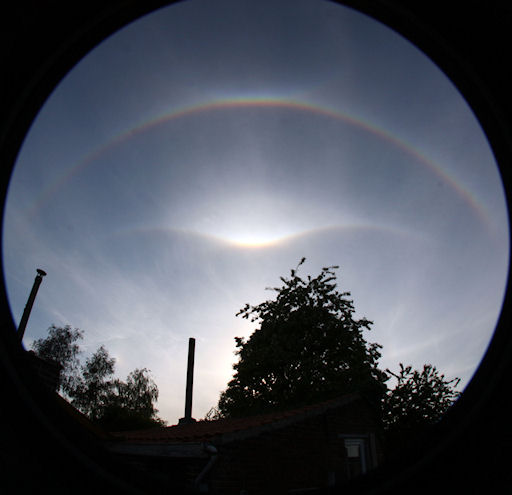 image with labels | more images
"The phenomenon lasted for more than 30 minutes, long enough to phone and e-mail many friends and colleagues," he adds. "[It looks like] this was observed over a large part of our (little) country."
Sun haloes are caused by ice crystals in high clouds. "This wonderfully bright display proves that you do not need to be in polar regions to see them," notes atmospheric optics expert Les Cowley. "Temperatures in 3 to 6 mile high cirrus are more than cold enough to make the needed hexagonal prism shaped ice crystals. There are two sets of halos, those nearest the sun are made by rays that pass between crystal faces inclined at 60 degrees. The outer halos with widely separated colors are from faces inclined at 90 degrees. See the labeled image for halo names. The huge colourful halo is a supralateral arc. This halo is often very hard to distinguish from the much less common 46 degree circular halo but there are several clues to look for to tell them apart."
more images: from Hendrik Mertens of Londerzeel, Belgium; from Joel Bavais of Ath, Belgium; from Francesco De Comite of Mouscron (Belgium)
---
April 2011 Aurora Gallery
[previous Aprils: 2010, 2009, 2008, 2007, 2006, 2005, 2004, 2003, 2002]