| | | |
| --- | --- | --- |
| Listen to radar echoes from satellites and meteors, live on listener-supported Space Weather Radio. | | |
VERY QUIET SUN: The face of the sun is nearly blank. There is only one tiny sunspot and it is not flaring. NOAA forecasters estimate no more than a 1% chance of M- or X-class flares during the next 24 hours. Solar flare alerts: text, voice.
BUSY INTERSECTION: Last night, NASA's all-sky fireball network recorded nearly two dozen fireballs streaking over the southern USA. Their orbits are shown here, all intersecting at a certain blue dot in space: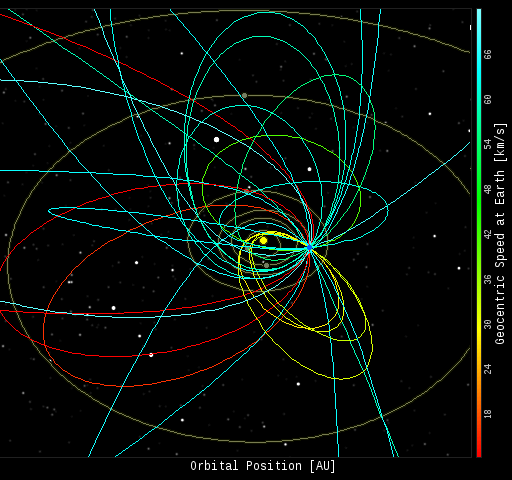 In the diagram, the orbits are color coded by velocity. Speeds ranged from 16 to 71 km/s (36,000 to 159,000 mph).
Most of these fast-moving meteoroids were "sporadics"--that is, random specks of space dust associated with no organized debris stream. The inner solar system is littered with such meteoroids, which strike Earth every day as our planet orbits the sun.
However, some of the meteoroids were not so random. The NASA cameras captured five epsilon Perseids, members of a little-known shower that peaks every year in early-to-mid September. The parent comet is unknown, but there is little doubt than an organized epsilon Perseid debris stream exists. In most Septembers, the epsilon Perseid rate is little more than 5 meteors per hour, but in 2008 the shower produced an outburst five times as active. Perhaps 2013 is a good year for epsilon Perseids, too.
Realtime Space Weather Photo Gallery
RIM FIRE FROM THE EDGE OF SPACE: The Rim Fire overlapping Yosemite National Park has now burned more than a quarter of a million acres (390 sq. miles), and according to the US Forest Service it may continue to grow, thanks to low humidity and other conditions. Smoke from the wildfire is affecting an even greater area. On Sept. 1st, the students of Earth to Sky Calculus sent a camera to the edge of space for a wide-angle shot of the smokey plumes: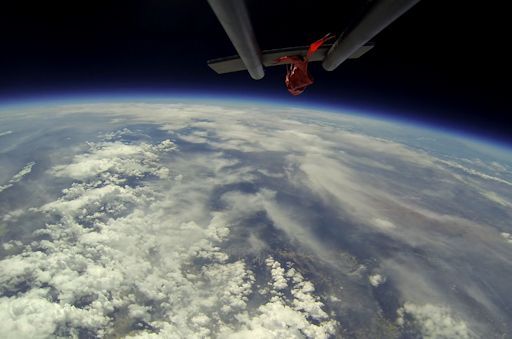 This photo, which was taken from the payload of a helium balloon 110,000 feet above Earth's surface, captures more than 10,000 sq. miles of terrain. About half is covered with filaments of smoke from the Rim Fire. There is far more smoke in the image than cumulus clouds. In recent weeks, shifting wind patterns have drawn the plumes back and forth across the mountain towns of the eastern Sierra Nevada, prompting frequent air quality warnings in some places. This photo shows that helium balloons can be effective tools for monitoring the location of the smoke.
The black bars and popped red balloon jutting into the top of the photo are part of another ongoing experiment. The students have been dispersing small amounts of powder and ash into the stratosphere to measure the "hang time" of tiny particles. The particles ascend inside a small balloon, which pops at altitude to scatter its contents at the edge of space. As NASA studies of an exploding asteroid over Russia have confirmed, fine ash deposited in the stratosphere does not immediately fall to the ground. It circles the globe for months or more, usually landing harmlessly in remote ocean areas.
More information about the group's edge of space experiments may be found on Facebook.
Realtime Space Weather Photo Gallery
---
---
Realtime Noctilucent Cloud Photo Gallery
[previous years: 2003, 2004, 2005, 2006, 2007, 2008, 2009, 2011]
---