| | | |
| --- | --- | --- |
| ANDROID FLYBYS: Our field-tested satellite tracker is now available for Android phones. Features: Global predictions and flyby alarms! Learn more. | | |
ASTEROID FLYBY: Yesterday, July 10th, the ESA's Rosetta probe executed a close flyby of big asteroid Lutetia. Close-up photography reveals an alien terrain dented by a giant bowl-shaped depression with "asteroid-boulders" rolling down the sides. Must-see images here!
SOUTH PACIFIC ECLIPSE: Today's South Pacific eclipse is over. During the 5-hour event, sky watchers spent as much as 4 minutes completely enveloped in the Moon's shadow watching in awe as the solar corona revealed itself to the human eye. First images are coming in now: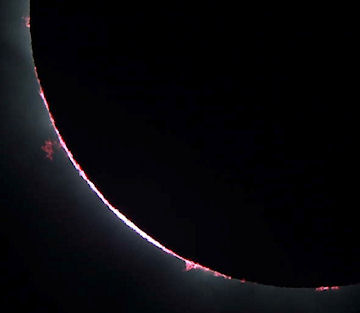 Constantinos Emmanouilidis sends the picture from Mangaia, one of the Cook Islands. "A small group of three astronomers traveled halfway around the globe to reach beautiful Mangaia. Here are the images we have taken through the clouds."
Physics professor Patricia Reiff of Rice University witnessed the eclipse from the deck of the Aranui 3 cruise ship just off the coast of Tahiti. She sent this picture directly from the ship using her iPhone.
Photographers, submit your images here.
UPDATED: Total Eclipse Photo Gallery
[Easter Island webcast] [full story] [animated map] [details]
SINUOUS BEAUTY: Sunspot 1087 is developing into a behemoth many times wider than Earth. It now has dozens of dark cores with a long magnetic filament snaking among them. "What amazing active region!" says Britta Suhre who sends this picture from her backyard observatory in Rosenheim, Germany: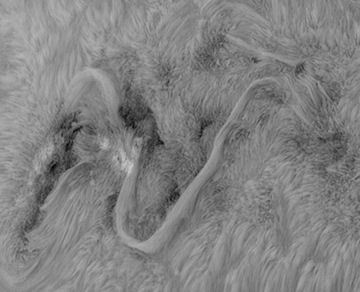 "It is real fun to photograph," she says.
The filament is crackling with B- and C-class solar flares, as shown in these movies from the Solar Dynamics Observatory. The biggest and most spectacular eruption so far was a C3-flare on July 9th: movie.
Readers with solar telescopes are encouraged to monitor the action.
more images: from Gianluca Valentini of Rimini, Italy; from W. Verhesen of Sittard, The Netherlands; from Andreas Murner of Rosenheim, Bavaria, Germany; from Gianluca Valentini of Rimini, Italy; from Jan Timmermans of Valkenswaard, The Netherlands