CALIFORNIA LANDING: Bad weather over Florida has forced NASA to target Edwards Air Force Base in California for today's landing of space shuttle Discovery. The deorbit burn is scheduled to begin at 7:47 p.m. EDT for an 8:53 p.m. landing at Edwards. [ground tracks] [updates]
SPACE STATION FLARES: One of the pleasures of watching the International Space Station (ISS) glide across the night sky is the unexpected. You never know when the ISS is going to flare. "Last night, I caught a beautiful flash of light coming from the space station," reports Tamas Ladanyi of Bend, Hungary. The flare occured just as the ISS was passing behind the battlement of a local castle: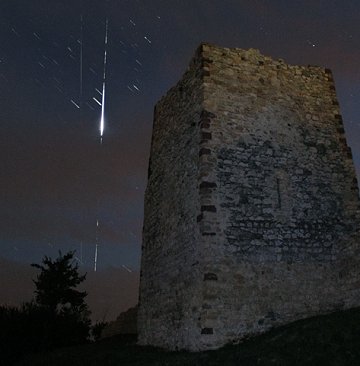 "The parallel streak of light is space shuttle Discovery, which undocked from the ISS on Sept. 8th," says Ladanyi. Discovery did not flare, however, because the aerodynamic shuttle is too curvaceous.
Space station flares happen when sunlight glints off something flat--e.g., a solar array, a thermal radiator, an airlock door. The ISS has thousands of square feet of planar surfaces oriented at a variety of sun-angles. It's such a complicated situation, no one can predict when a glint will occur or where the reflected rays will fall on Earth.
On Sept. 10th, it was a castle in Hungary. Your back yard could be next. Check the Simple Satellite Tracker for a shot at the unexpected.
more images: from Tom King of Watauga, Texas; from Monika Landy-Gyebnar of Bánd, Hungary; from Jared Aicher of Boise, Idaho; from Blattmann of Saint-Etienne de Crossey, France; from Martin Wagner of Sonnenbuehl-Genkingen, Germany
STAR TRAILS IN MOTION: It's an astrophotographer's favorite trick: Point your camera at the stars, open the shutter, and let the world turn. The rotation of the planet beneath your feet causes the stars overhead to curve in graceful arcs known as star trails. Here are some examples.
Renowned astrophotographer Miguel Claro has added a new wrinkle to the old favorite. Click on the image to see star trails in motion: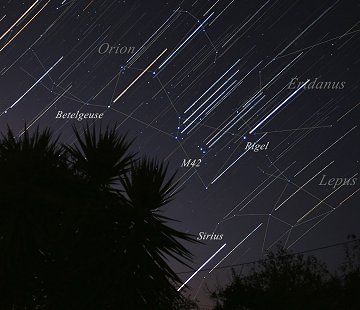 "I made the movie on September 1st with my camera (Canon 400D) set up in a farm field in Vila Boim, Portugal, about 200km from Lisbon," says Claro. "It consists of sixty-eight 30-second exposures. Later I combined the individual images using Windows Movie Maker."
Each frame in the movie is the sum of all the previous frames. Because of this, "as we advance in the film, the signal-to-noise ratio increases. It's an interesting visual sensation." Watch for it as you play the movie again.
Star trails in motion: It's the astrophotographer's new favorite trick.
---
August 2009 Aurora Gallery
[previous Augusts: 2008, 2007, 2006, 2005, 2004, 2003, 2002, 2001]
---