| | | |
| --- | --- | --- |
| Listen to radar echoes from satellites and meteors, live on listener-supported Space Weather Radio. | | |
DOUBLE ASTEROID FLYBY: A pair of big, near-Earth asteroids will fly by the Earth-Moon system on Sept. 14th. 2012 QG42 is a 300-meter space rock that comes from the inner asteroid belt; it will pass 2.8 million km (7.4 lunar distances) from Earth. 2012 QC8 is even bigger, about 1.1 km in diameter, hailing from the vicinity of Jupiter; it will pass about 8.7 million km (22.7 lunar distances) from Earth. Astronomers monitoring the incoming space rocks say they are glowing like 14th to 15th magnitude stars, which makes them good targets for advanced amateur telescopes. Ephemerides: 2012 QG42, 2012 QC8.
EXPLOSION ON JUPITER: Apparently, something hit Jupiter during the early hours of Sept. 10th (11:35 UT), igniting a ferocious fireball in the giant planet's cloudtops. Amateur astronomer Dan Peterson Racine, Wisconsin, saw it first through his Meade 12" LX200 telescope. "It was a bright white flash that lasted only 1.5 - 2 seconds," he reports. Another amateur astronomer, George Hall of Dallas, Texas, was video-recording Jupiter at the time, and he confirmed the fireball with this video screenshot: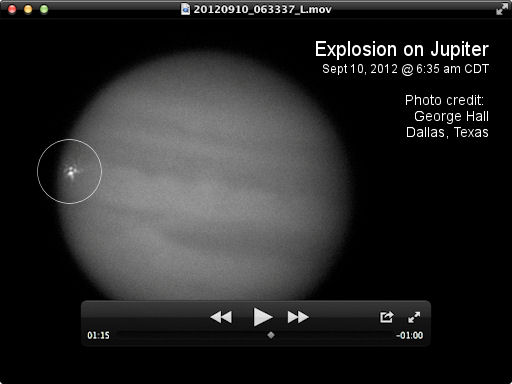 Impact site coordinates: longitude 335o (system 1) and latitude +12o, inside the North Equatorial Belt's southern section.
The fireball was probably caused by a small asteroid or comet hitting Jupiter. Similar impacts were observed in June and August 2010. An analysis of those earlier events suggests that Jupiter is frequently struck by 10 meter-class asteroids--one of the hazards of orbiting near the asteroid belt and having such a strong gravitational pull.
Astronomers around the world will now begin monitoring the impact site for signs of debris--either the cindery remains of the impactor or material dredged up from beneath Jupiter's cloud tops. Some impacts do produce such debris, while others don't. Researchers aren't sure why; perhaps this event will provide some clues. Stay tuned for news about what happens next.
Update: George Hall has posted a complete video of the explosion on Flickr.
Realtime Space Weather Photo Gallery
SUBORBITAL CHICKEN: On Wednesday Sept. 5th a group of California high school students celebrated the 35th anniversary of the launch of Voyager 1 in an unusual way: They launched a rubber chicken. The popular NASA mascot Camilla traveled to the top of our planet's atmosphere on board a suborbital helium balloon. Here is a snapshot from an altitude of approximately 120,000 feet: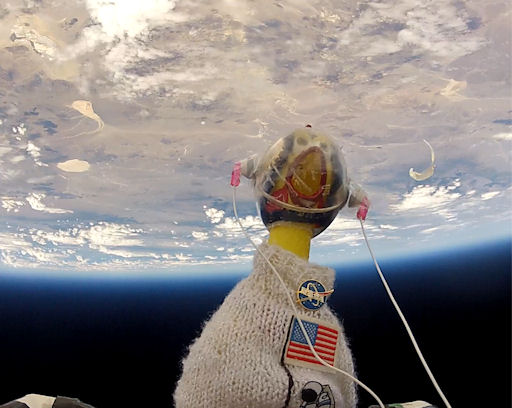 Camilla is wearing headphones. Why? Because she's listening to the Golden iPod, the modern-day successor to the Golden Records bolted to the side of the Voyager probes. The students are updating the Golden Records with 21st-century content that the students would like to send into the cosmos. This was just a test flight; in 2013, they hope to launch the Golden iPod into Earth orbit onboard a CubeSat they are building.
At the apex of the Sept. 5th suborbital flight, the helium balloon popped as planned and Camilla parachuted back to Earth. The students, who call their group "Earth to Sky," recovered Camilla and the Golden iPod from a remote landing site in the Nevada wilderness on Sept. 6th. Now they are all enjoying music that has been to the doorstep of space itself.
More information about the flight and the recovery expedition may be found at Earth to Sky's Facebook page. Students who wish to participate in the Golden iPod project can submit their ideas for the iPod's playlist at goldenipod.org.
SOLAR CONJUNCTION OF MERCURY: An astronomical conjunction is underway this week--but don't bother looking up because it is hidden in broad daylight. Mercury is passing only a degree and a half from the sun. Using an opaque disk to block the sun's glare, the Solar and Heliospheric Observatory (SOHO) took this picture of the close encounter on Sept. 10th: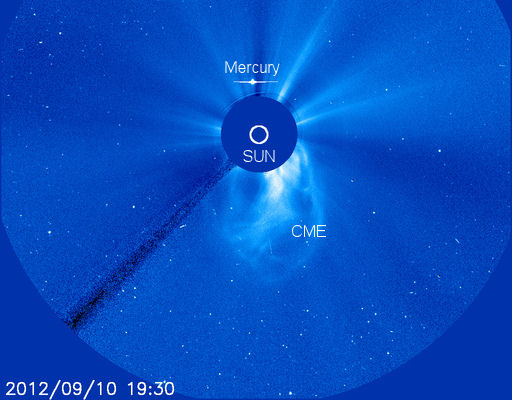 In the weeks ahead, Mercury will move away from the sun, emerging from the glare in mid-October to assume the role of Evening Star in the western sky at sunset. Until then, it takes a coronagraph to see the comings and goings of the innermost planet. Join SOHO for a ringside seat.
---
---
Realtime Noctilucent Cloud Photo Gallery
[previous years: 2003, 2004, 2005, 2006, 2007, 2008, 2009, 2011]