| | | |
| --- | --- | --- |
| Listen to radar echoes from satellites and meteors, live on listener-supported Space Weather Radio. | | |
GAMMA-RAY BURSTS FROM THE CLOUDTOPS: Sometimes, Earth mimics a supernova, producing a Terrestrial Gamma-ray Flash from the tops of thunderstorms. A new lightning sensor on the International Space Station could solve the mystery of these energetic bursts. [video] [full story]
METEOR OUTBURST? European sky watchers are reporting an outburst of September epsilon Perseid meteors. "The outburst occurred around UT midnight on Sept. 9-10," says Bill Cooke, head of NASA's Meteoroid Environment Office. "During a two hour period, meteors appeared at a rate equivalent to ~50 per hour (ZHR). We did not see the outburst in North America because it was still daylight at the time."
NASA all-sky cameras have been recording epsilon Perseid fireballs for days, albeit at a much lower rate than what the Europeans saw. The shower has been active since early September, allowing Cooke's team to calculate orbits for more than a dozen meteoroids: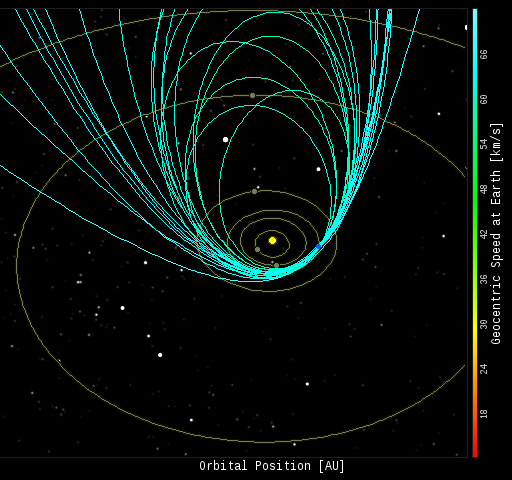 In the diagram, orbits are color-coded by velocity. Epsilon Perseid meteoroids hit Earth's atmosphere at a "blue-green" speed of about 62 km/s (139,000 mph). According to NASA data, the debris stream appears to be rich in fireball-producing meteoroids.
The epsilon Perseid shower peaks every year around this time, but the shower is not well known because it is usually weak, producing no more than 5 meteors per hour. In 2008 the shower surprised observers with an outburst five times as active, and this year the shower may have doubled even that. Clearly, the epsilon Perseid debris stream contains some dense filaments of material that Earth usually misses but sometimes hits.
No one knows the source of the September epsilon Perseid meteor shower. Whatever the parent is, probably a comet, its orbit must be similar to the green ellipses shown in the orbit-map above. As NASA cameras continue to gather data on this shower, orbital parameters will become more accurately known, possibly leading to a match.
Meanwhile, sky watchers should be alert for more epsilon Perseids in the nights ahead. The shower is waning but still active and more outbursts are possible.
Realtime Space Weather Photo Gallery
ALMOST-BLANK SUN: 2013 is supposed to be a year of solar maximum. Indeed, the sun's magnetic field is poised to flip, a long-held sign that Solar Max has arrived. But if this is Solar Max, it looks a lot like Solar Min. The face of the sun is almost completely blank: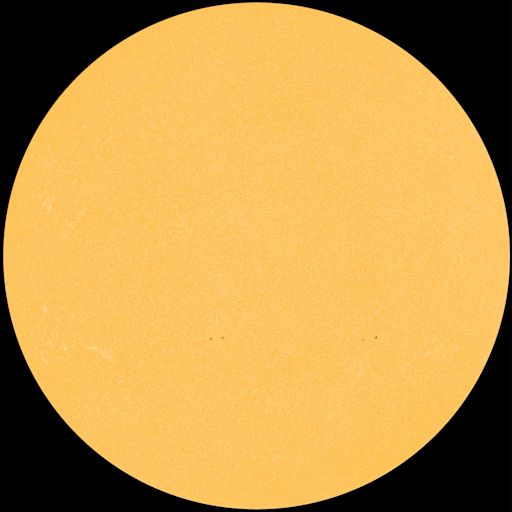 A careful inspection of the solar disk reveals only two sunspots, very small and quiet. NOAA forecasters estimate no more than a 1% chance of M- or X-class flares during the next 24 hours.
In fact, this is Solar Max, the weakest one in more than 50 years. Long spells of quiet and spotlessness are punctuated by occasional flares and CMEs. At least one researcher believes the ongoing maximum is actually double-peaked, and we are now experiencing the valley between peaks. If so, a surge in solar activity could be in the offing in late-2013 and 2014. Stay tuned. Solar flare alerts: text, voice.
Realtime Space Weather Photo Gallery
---
---
Realtime Noctilucent Cloud Photo Gallery
[previous years: 2003, 2004, 2005, 2006, 2007, 2008, 2009, 2011]
---