| | | |
| --- | --- | --- |
| Can you drop a probe on a comet? A new iPhone game from NASA's Jet Propulsion Laboratory puts you in control of the Rosetta spacecraft as it prepares to intercept Comet 67P/Churyumov-Gerasimenko. Download it now. | | |
LYRID METEOR SHOWER: Earth is approaching the debris field of ancient Comet Thatcher, source of the annual Lyrid meteor shower. Forecasters expect the shower to peak on April 21-22; a nearly-new moon on those dates will provide perfect dark-sky conditions for meteor watching. Usually the shower is mild (10-20 meteors per hour) but unmapped filaments of dust in the comet's tail sometimes trigger outbursts 10 times stronger. [video] [Lyrid chat]
LUCKY MAGNETIC STORM: A solar wind stream hit Earth's magnetic field on April 12th, sparking a geomagnetic storm (Kp=5) that peaked during the early hours of Friday the 13th. Northern Lights were sighted over the USA as far south as Minnesota, Michigan, and Wisconsin. In Beecher, Wisconsin, photographer Brian Larmay made this lucky shot of the International Space Station flying through the display: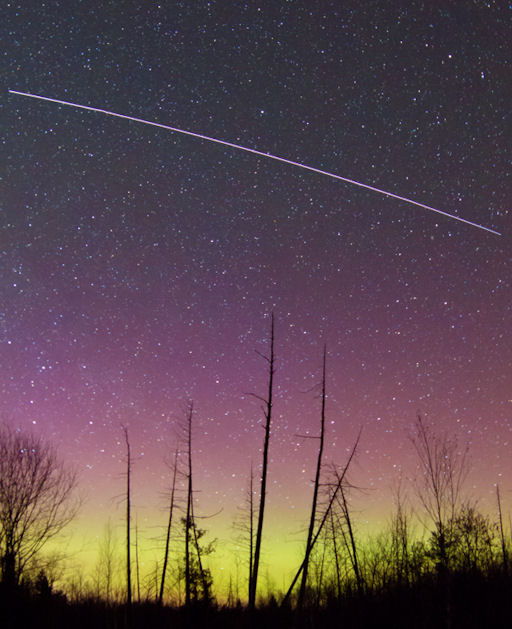 "The auroras were very impressive here in northeastern Wisconsin," says Larmay.
Another photographer, Shawn Malone of Marquette, Michigan, sends this report from the shores of Lake Superior: "The sky was ablaze in light. Northern lights were so bright they lit up the beach! It was an amazing night."
NOAA forecasters estimate a 30% to 40% chance of more geomagnetic activity during the next 24 hours as the solar wind continues to blow. Aurora alerts: text, phone.
more images: from P-M Hedén of Tänndalen, Sweden; from Jónína Óskarsdóttir of Faskrudsfjordur, Iceland; from Nenne Åman of Arjeplog Lapland, Sweden; from Janis Satrovskis of Valmiera, Latvia; from LeRoy Zimmerman of Ester, Alaska; from Ben Beaucher of Wemindji, James Bay, Quebec; from Börkur Hrólfsson of Holtavörðuheiði, Iceland; from Ronan Newman of Charlestown, County Mayo, Ireland; from Göran Strand of Östersund, Sweden; from Paul Martin of Omagh, N. Ireland; from Stine Vibeke Bratteberg of Ørsta, Møre og Romsdal, Norway;
GROWING SUNSPOT: Almost directly facing Earth, sunspot AR1455 is growing rapidly. "This active region is becoming more interesting by the day and forms a nice group of sunspots now," says amateur astronomer Dennis Put who send this snapshot from Brielle, the Netherlands: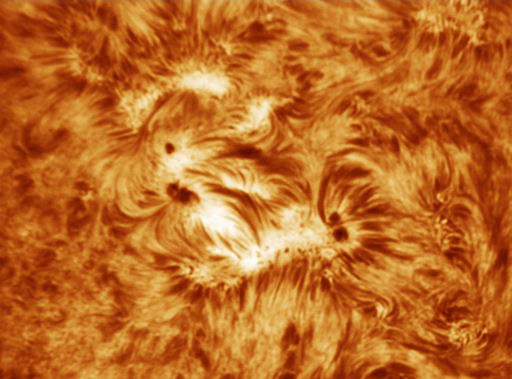 The picture, which he took using an H-alpha telescope tuned to the red glow of solar hydrogen, captures the maelstrom of hot plasma and magnetism swirling atop the sunspot group's underlying dark cores. If the region continues to grow it could soon become a source of C-class solar flares.
SEVEN ICE HALOES: As spring unfolds, Arctic daylight will soon wrap all the way around the clock, chasing away midnight displays of aurora borealis. There are compensations, however, for 24-hour sunlight. It increases the odds of witnessing ice haloes around the sun. On April 4th, Fredrik Broms photographed this display over Rovaniemi, Finland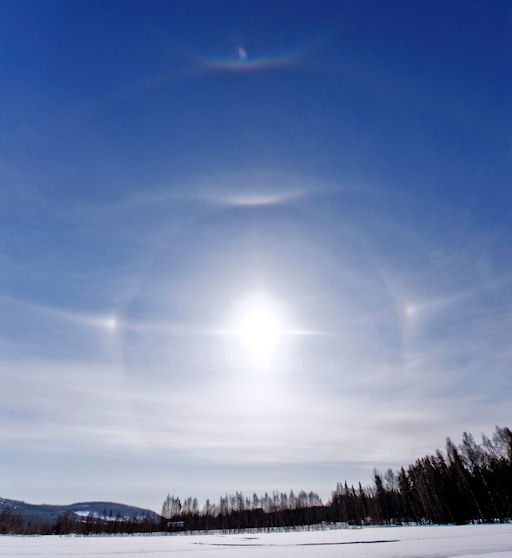 "Looking up at the sky during daytime can be rewarding," says Broms. "In the cold crisp air in Finland a beautiful ice halo display was visible a few days ago."
The luminous rays, rings, and arcs he photographed are caused by sunlight shining through ice crystals in the air. Looking carefully, Broms counted at least seven distinct ice halos around the sun: labeled image.
You don't have to be in the Arctic to witness displays like this. Temperatures are freezing all around the world in clouds ~10km above the ground. Sunlight shining through icy clouds can produce haloes anywhere. Browse the links for more examples: from Ivo Dinsbergs of Riga, Latvia; from Heiko Ulbricht of Freital, Saxony, Germany; from Juha Ojanperä of Lapinjärvi, Finland; from Ryan delos Reyes of Anchorage, Alaska