| | | |
| --- | --- | --- |
| They came from outer space--and you can have one! Genuine meteorites are now on sale in the Space Weather Store. | | |
QUIET SUN: With only two quiet sunspots dotting the solar disk, solar activity remains low. NOAA estimates a 5% chance of M-class solar flares and a scant 1% chance of X-class flares during the next 24 hours. Solar flare alerts: text, voice.
AN OUTBREAK OF MAGNETIC FILAMENTS: The sunspot number may be low, but the sun is far from blank. Amateur astronomers monitoring the sun report a large number of magnetic filaments snaking across the solar disk. Sergio Castillo captured more than half a dozen in this picture he sends from his backyard observatory in Inglewood, California: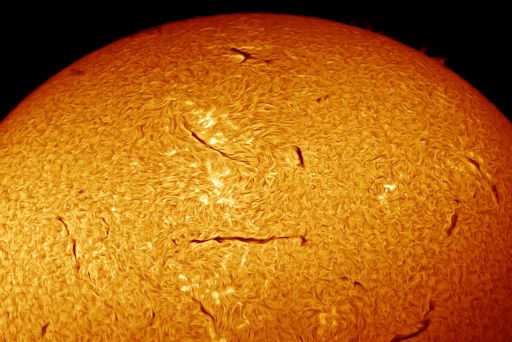 "Filaments are popping up all over the solar surface," says Castillo. "Each one has a unique shape and length."
The longest one, in the sun's southern hemisphere stretches, more than 400,000 km from end to end. "It's one of the longest filamentary structures I have ever seen," says veteran observer Bob Runyan of Shelton, Nebraska.
If any of the filaments collapses, it could hit the stellar surface and explode, producing a Hyder flare. Filaments can also become unstable and erupt outward, hurling pieces of themselves into space. Either way, astronomers with solar telescopes are encouraged to monitor developments.
Realtime Space Weather Photo Gallery
GAMMA DELPHINID METEORS: On June 11, 1930, Earth passed through a stream of debris from an unknown long-period comet, producing a flurry of gamma Delphinid meteors. Two days ago, on June 11, 2013, researchers said it might happen again. It didn't; the expected outburst failed to materialize. Nevertheless, a small number of candidate gamma Delphinids were seen by observers around the world. Yuri Beletsky captured these over the Las Campanas observatory in Chile: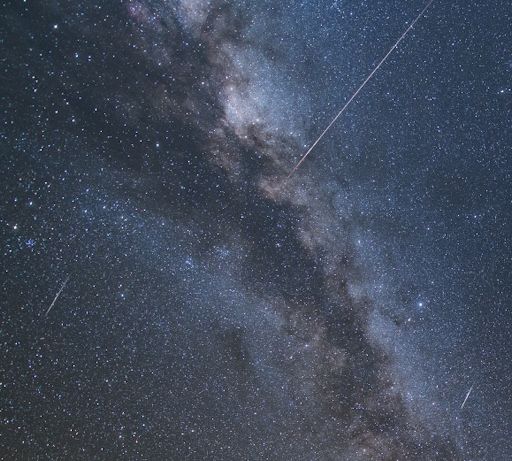 "Meteor activity was lower than expected," says Beletsky. "Even so, we saw a few of them."
Thomas Ashcraft also recorded a spectacular gamma Delphinid over his private observatory in rural New Mexico: movie. "The fireball appeared ten minutes from the predicted outburst peak time," notes Ashcraft.
"It is still possible that we glanced the dust trail and caught a few meteors," says Peter Jenniskens of the SETI Institute, one of the forecasters who predicted the return of the gamma Delphinids. "At 8:32 UT, I myself saw a short bright +1 meteor radiate from Aquila in a clearing between clouds at Lick Observatory. Sadly, other sites of our video camera network were clouded out. Given that the shower's radiant may have been at a different location [compared to 1930], please do keep collecting photographs of meteors taken that night. Single-station photographs may yet identify a compact radiant. Once we know the radiant, we can make more accurate predictions for the future. "
AURORAS + NOCTILUCENT CLOUDS: On Sunday, June 9th, Alan Dyer of Gleichen, Alberta, Canada, went outside to see the colors of the sunset. He got more than he bargained for. Stacked atop the rosy glow of twilight were dual bands of electric-blue noctilucent clouds and green auroras: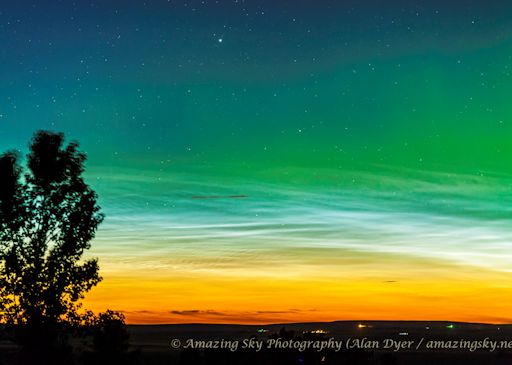 "At times the auroral curtains appeared superimposed on the noctilucent clouds," says Dyer. "It isn't often we see the two phenomena together."
That's because they are completely unrelated. Auroras are caused by energetic particles from the sun raining down on Earth's upper atmosphere, causing the air to glow like the picture tube of a color TV. Noctilucent clouds are made of tiny ice crystals wrapped around bits of meteor smoke. Their electric-blue color comes from the scattering of high altitude sunlight. On June 9th the two phenomena overlapped for a rare display.
"Adding to the colours was the deep orange of perpetual twilight rimming the northern horizon," continues Dyer. "It was a beautiful pre-solstice night."
More aurora-noctilucent overlaps might be in the offing. NLC experts say noctilucent clouds have appeared bright and early this year, while 2013 might bring the late surge of a double-peaked Solar Max. High-latitude sky watchers should keep an eye on the sunset. Aurora alerts: text, voice.
Realtime Noctilucent Cloud Photo Gallery
[previous years: 2003, 2004, 2005, 2006, 2007, 2008, 2009, 2011]
---
---