| | | |
| --- | --- | --- |
| ANDROID FLYBYS: Our field-tested satellite tracker is now available for Android phones. Features: Global predictions and flyby alarms! Learn more. | | |
WHAT LIES INSIDE LUNAR PITS? Newly-discovered pits on the Moon could be entrances to a geologic wonderland of underground caves and tunnels. Researchers discuss the possibilities in today's story from Science@NASA.
MAGNIFICENT ACTIVE REGION: Sunspot 1087 has a magnetic canopy that can only be described as magnificent. It's on full display in today's extreme ultraviolet image from the Solar Dynamics Observatory: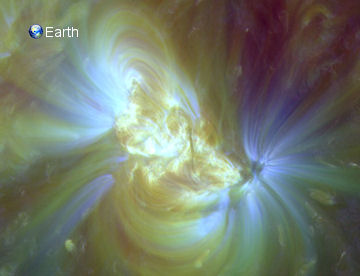 Note the inset. The active region could swallow our planet ten times over and still have room to spare. Fortunately, we're 93 million miles away. We could still feel the effects of an eruption, however. The thicket of magnetic loops and filaments harbors energy for M-class solar flares. M-flares can heat and puff up Earth's upper atmosphere, causing satellites to experience extra drag as they orbit our planet; they can also cause waves of ionization to ripple around the planet, disrupting radio communications. There haven't been any big eruptions yet, but the magnificent magnetic field of sunspot 1087 has been restless, as shown in this time-lapse movie spanning four days.
NOAA forecasters estimate a 10% chance of M-flares during the next 24 hours. Readers with solar telescopes are encouraged to monitor developments.
TOTAL ECLIPSE OF THE SUN: At the end of Sunday's total solar eclipse, amateur astronomer Daniel Fischer of Germany, who traveled halfway around the world to experience the event, found himself inside the Moon's shadow just as it was about to lift off Earth. At almost the last possible moment, he snapped this picture: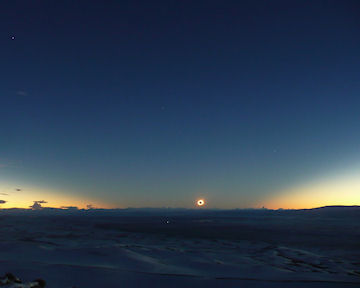 "The shadow of the Moon sweeping over Patagonia in southern Argentina plunged the snowy steppe east of El Calafate into darkness just before sunset on 11 July 2010," says Fischer. "The sharp delineation of the Moon's shadow in the sky stunned everyone."
"There had been little advance news coverage of the eclipse in Argentina, probably because it coincided with the final game of the World Cup," he continues. "It was mainly individual eclipse chasers and tour groups from distant countries who converged here for a totality practically at sunset, something few have ever seen."
"We assembled at a mirador--a small parking lot beside Route 11 with a good view of the Andes. And then the shadow came, racing towards us with supersonic speed, almost grazing the Earth's surface and about to lift off into space again after having swept through a vast stretch of the Pacific Ocean in the hours past. In a short time we witnessed every phase of the eclipse in the unusually clear Patagonian sky. No one present will ever forget it," he says.
Browse the gallery for more tales from the path of totality.
Solar Eclipse Photo Gallery
[NASA: South Pacific Eclipse] [animated map] [details]