SOLAR PROMINENCE: No sunspots, no problem. The sun can still put on a good show. Astronomers are reporting a large prominence dancing along the sun's northwestern limb. If you have a solar telescope, take a look.
sun shots: from Greg Piepol of Rockville, Maryland; from Erika Rix of Zanesville, Ohio; from Cai-Uso Wohler of Bispingen, Germany; from Michael Borman of Evansville, Indiana;
JAPANESE SHIP FLARES, CHASES ISS: Japan's new cargo ship, the HTV-1, is in Earth orbit and chasing the ISS for a rendevous on Sept. 17th. Sky watchers who have seen the vehicle say it is bright, orange, and best of all, sometimes it flares. Marco Langbroek sends this photo from Leiden, the Netherlands:

Photo details: Canon EOS 450D + EF 50/2.5 Macro, 10 seconds
"I photographed the HTV-1 on its maiden flight to the ISS on the evening of Sept. 12th; it was as bright as a 1st magnitude star," says Langbroek. "The picture also shows the trail of an old Russian rocket stage."
"Just before I took the picture, the HTV-1 briefly flared to mag. -1," he adds. Other observers confirm this, reporting flares as bright as mag. -3 or -4. The ship has few flat surfaces to reflect sunlight, so it is unclear what is causing the surges in luminosity. Pictures of the HTV-1 may be found in this JAXA press kit.
Readers, check the Simple Satellite Tracker to see if you are favored with a flyby of HTV-1. The mystery-flares are worth a look.
STAR TRAILS IN MOTION: It's an astrophotographer's favorite trick: Point your camera at the stars, open the shutter, and let the world turn. The rotation of the planet beneath your feet causes the stars overhead to curve in graceful arcs known as star trails. Here are some examples.
Renowned astrophotographer Miguel Claro has added a new wrinkle to the old favorite. Click on the image to see star trails in motion: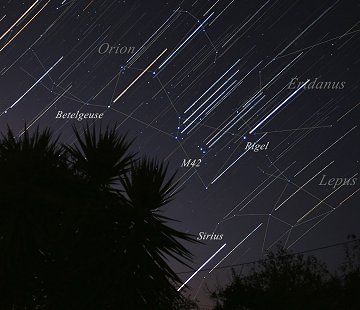 "I made the movie on September 1st with my camera (Canon 400D) set up in a farm field in Vila Boim, Portugal, about 200km from Lisbon," says Claro. "It consists of sixty-eight 30-second exposures. Later I combined the individual images using Windows Movie Maker."
Each frame in the movie is the sum of all the previous frames. Because of this, "as we advance in the film, the signal-to-noise ratio increases. It's an interesting visual sensation." Watch for it as you play the movie again.
Star trails in motion: It's the astrophotographer's new favorite trick.
---
August 2009 Aurora Gallery
[previous Augusts: 2008, 2007, 2006, 2005, 2004, 2003, 2002, 2001]
---