Would you like a call when auroras appear over your hometown? Sign up for Spaceweather PHONE.
GOOD GEMINIDS: The 2006 Geminid meteor shower peaked this morning, and the first reports are in: It was a good show. There were "lots of meteors and fireballs, " says Alex Conu near Bucharest, Romania. One Geminid over Ozark, Arkansas, "produced shadows more intense than during a full moon!" reports Brian Emfinge: gallery.
AURORA ALERT: Sky watchers, be alert for auroras. A coronal mass ejection (CME) hit Earth today at approximately 1400 UT, and the impact may cause strong geomagnetic storms. Stay tuned for updates.
The CME was hurled toward Earth on Dec. 13th by an X3-class explosion from sunspot 930:


An X3-flare on Dec. 13th. Image credit: SOHO
NOAA forecasters estimate a 35% chance of more X-flares today. Sunspot 930 has an unstable "delta-class" magnetic field that could erupt at any moment.
PASTEL SUN: "I've been watching sunspot 930 since it first appeared last week," says artist Mark Seibold of Troutdale, Oregon. Inspired by the view through his Coronado SolarMax40, he made these pastel sketches: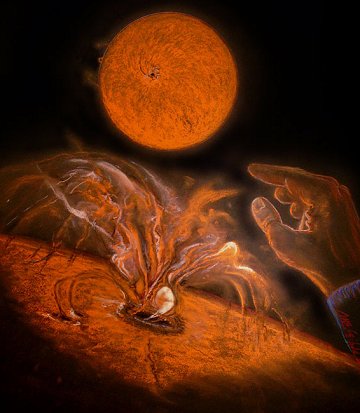 Magnetic fields and hot plasma emerging from the sunspot's dark core reminded Seibold of "anatomical forms being born from a black pool. It conjures up William Herschel's assertion that 'the sun is richly stored with inhabitants.'"
Clearly, the sun's not just a star--it's a muse. Solar activity is surging, so grab your pastels.