| | | |
| --- | --- | --- |
| Thirty-five new items have just been added to our Meteorite Jewelry collection. Browse the Space Weather Store for something out of this world. | | |
PUBLIC SERVICE ANNOUNCEMENT: Solar maximum is coming in 2013. How will space weather affect you? To answer that question, experts from around the world are gathering for the Space Weather Enterprise Forum (SWEF) on June 5, 2012, at the National Press Club in Washington, DC. To learn more and register, please visit the SWEF web site at http://www.nswp.gov/swef/swef_2012.html.
CHINESE SPACE STATION TRANSITS THE SUN: Solar photographers have grown accustomed to winged spaceships flying in front of the sun. For years, silhouettes of space shuttles and the International Space Station have flitted across the solar disk, producing photo-ops of rare beauty. Now China's space station, the Tiangong-1 ("Heavenly Palace 1"), is joining the show. On May 11th, for the first time, Thierry Legault of Paris, France, caught the newcomer transiting the sun:
"Orbiting Earth at 16,500 mph, the Chinese station flitted across the sun in only 0.9s," says Legault, who captured the split-second transit using a solar-filtered Takahashi FSQ-106 refractor and a Canon 5D Mark II digital camera.
At the moment, the silhouette of the 19,000 pound Tiangong-1 is dwarfed by its older cousin, the 990,000 pound ISS. Tiangong-1 will grow a little larger in the summer of 2012 when the Shenzhou 9 spacecraft docks with it. Three Chinese astronauts will be on board for their first visit to the outpost. The Chinese space agency says this is just the first step toward the development of a much larger space station planned for launch in 2020. Stay tuned for more--and bigger--silhouettes.
You can see Tiangong-1 with the naked eye shining in the night sky as brightly as the stars of the Big Dipper. Check your smartphone or SpaceWeather's Simple Satellite Tracker for sighting opportunities.
MENACE UNREALIZED: After more than a week of solar storm warnings, sunspot AR1476 is turning away from Earth with a mostly unblemished record of quiet. The decaying behemoth never lived up to its potential as a source of X-class solar flares. It did, however, make a great target for astrophotographers. Even now the sunspot is decorating sunsets around the world: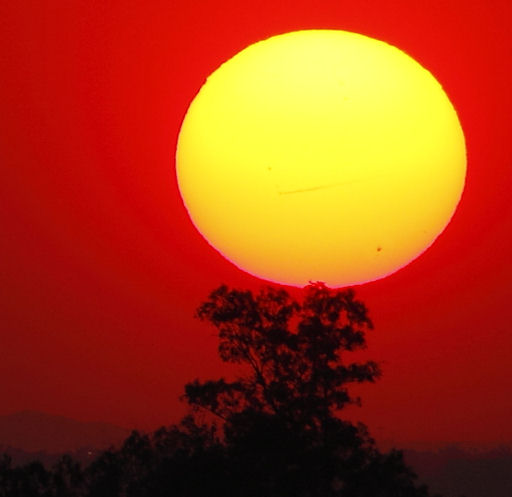 Russ Vallelunga took the picture on May 14th from Papago Park in Phoenix, Arizona. "Wildfires around the Phoenix metropolitan area led to a dim setting sun," says Vallelunga. "This allowed me to capture the sunspots 1476 and 1478 with an exposure of 1/125 second at ISO 100." More photo details may be found here.
NOAA forecasters estimate a 15% chance of M-class flares and no more than a 1% chance of X-flares from AR1476 during the next 24 hours. The chance of photo-ops: 100%.
more images: from VegaStar Carpentier of Paris, France; from Mike Borman of Evansville, Indiana; from Maximilian Teodorescu of Dumitrana, Romania; from Alberto Lao of Binondo, Manila, Philippines; from Art Whipple of Tracys Landing, Maryland; from John W. O'Neal II of Amherst, Ohio; from Pete Lawrence of Selsey, West Sussex, UK; from Göran Strand of Frösön, Jämtland; from Eric von der Heyden of Traisa, Hessen, Germany