MORNING PLANETS: Set your alarm for dawn. On Friday morning, Oct. 16th, the crescent Moon, Venus, Saturn and Mercury will gather in the east for a sunrise sky show. For best results, use binoculars to see all four worlds framed by morning twilight-blue. [sky map]
LUNAR IMPACT: NASA's Lunar Reconnaissance Orbiter has pinpointed the wreckage of a spacecraft that crashed into the Moon. No, it wasn't LCROSS, which hit the floor of crater Cabeus last week. This crash site is much older: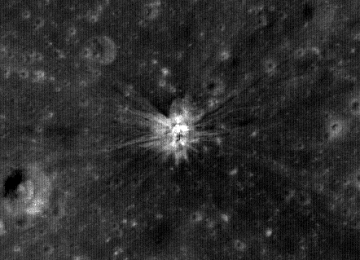 Thirty-eight and a half years old, to be exact. The crater was formed on February 4, 1971, by the impact of Apollo 14's Saturn IVB booster rocket. NASA intentionally guided the rocket into the lunar surface to provide a signal for seismometers deployed by Apollo astronauts. The experiment yielded new information about the Moon's interior structure.
Over the years, NASA and other international space agencies have peppered the Moon with dozens of spacecraft--usually on purpose, although not always--and by doing so gained considerable experience with the results of lunar impacts. Researchers tapped into that experience when they predicted bright flashes and debris plumes for the crash of LCROSS. Imagine their surprise when the flashes and plumes failed to materialize! To the human eye, LCROSS and its Centaur booster rocket simply disappeared into the inky depths of Cabeus with no obvious evidence of impact.
The solution to this mystery probably lies in data beamed back to Earth by LCROSS in the last minutes before impact. Scientists are crunching the numbers, and it may be days or weeks before results are known. Stay tuned.
NETHERLANDS FIREBALL: A fireball as bright as the full Moon startled observers in the Netherlands on Oct. 13th when it raced across the evening twilight sky. A lucky shot by photographer Jan de Vries at approximately 1658 UT caught the meteor in mid-flight:
"It was spectacular," says eyewitness Dominic Doyle of the European Space Agency in Noordwijk. "I estimate its magnitude to be about -12," adds amateur astronomer Koen Miskotte, who saw it from the small village of Ermelo. Various observers report it breaking apart into as many as a half-dozen pieces, followed by sonic booms, low rumbles and shaking windows. A Royal Dutch Meteorology Institute listening post detected strong infrasound (low-frequency sound) waves, apparently confirming a high-altitude breakup event: data.
more images: from Robert Mikaelyan of Groningen, The Netherlands
---
Sept. 2009 Aurora Gallery
[previous Septembers: 2008, 2007, 2006, 2005, 2004, 2002, 2001]
---