GIANT RIBBON DISCOVERED AT THE EDGE OF THE SOLAR SYSTEM: For years, researchers have known that the solar system is surrounded by a vast bubble of magnetism. Called the "heliosphere," it springs from the sun and extends far beyond the orbit of Pluto, providing a first line of defense against cosmic rays and interstellar clouds that try to enter our local space. Although the heliosphere is huge and literally fills the sky, it emits no light and no one has actually seen it. Until now.
NASA's IBEX (Interstellar Boundary Explorer) spacecraft has made the first all-sky map of the heliosphere and the results have taken researchers by surprise. The map is bisected by a bright, winding ribbon of unknown origin: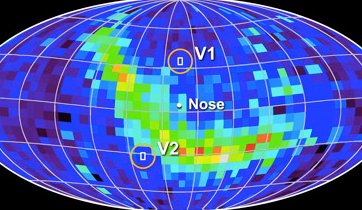 "This is a shocking new result," says IBEX principal investigator Dave McComas of the Southwest Research Institute. "We had no idea this ribbon existed--or what has created it. Our previous ideas about the outer heliosphere are going to have to be revised."
The two Voyager spacecraft (labeled V1 and V2 in the figure) have spent decades traveling to the edge of the solar system for in situ inspection of whatever might be there--but ironically both spacecraft missed the ribbon. "It's like having two weather stations, but missing the big storm that runs between them," says Eric Christian, IBEX deputy mission scientist at NASA's Goddard Space Flight Center.
At the moment, theorists are "working like crazy" to understand this discovery and how the ribbon might affect the ability of the heliosphere to shield us from cosmic rays. Science@NASA has the full story.
CELESTIAL TRIANGLE: This morning in Kerman, Iran, Mohammad Javad Fahimi stood beside the historic Jabaliyeh Dome and watched a lovely triangle rise in the eastern sky: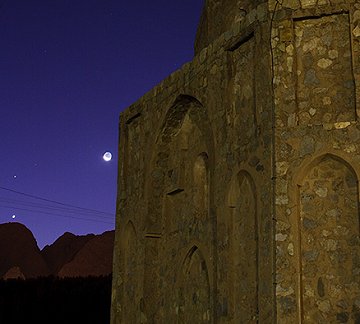 "It was Venus, Saturn and the crescent Moon having a get-together," says Fahimi. Seeing the planets arrayed thus beside the 900-year old mausoleum was "a wonderful way to begin the day."
Observers in other time zones would have seen the same trio--almost. The Moon is moving toward Venus, so the shape of the triangle has been shifting from time zone to time zone, each apparition a little different than the one before. Click on the links below for variations.
more images: from Miguel Claro of Cacilhas, Almada, Portugal; from Azhy Chato Hasan of Erbil city, Kurdistan Region, Iraq; from Jens Hackmann of Weikersheim, Germany; from Zlatko Pasko of Stara Pazova, Serbia; from Antonio Finazzi of Chiuduno, Bergamo - Italy; from Jim Werle of Las Vegas, Nevada; from Paul Hughes of St Austell, Cornwall, UK; from Alan C Tough of Lossiemouth, Moray, Scotland; from Stefano De Rosa of Monate Lake, Italy;
---
Sept. 2009 Aurora Gallery
[previous Septembers: 2008, 2007, 2006, 2005, 2004, 2002, 2001]
---