| | | |
| --- | --- | --- |
| SATELLITE FLYBYS APP: Turn your iPhone or iPod into a field-tested satellite tracker! Spaceweather.com presents the Satellite Flybys app. | | |
SOLAR DYNAMICS OBSERVATORY: The most advanced solar observatory ever built launched from Cape Canaveral last Thursday, Feb. 11th, on five-year mission to study the sun. NASA says the Solar Dynamics Observatory (SDO) is "in good shape" as the post-launch checkout of spacecraft systems continues. The first IMAX movies of solar explosions should hit the screens in April. Stay tuned!
AURORAS AND A FIREBALL: This week, the brightest auroras of the year have been surging around the Arctic Circle. Never one to waste a photo-op, English astrophotographer Pete Lawrence boarded a "Northern Lights flight" on Feb. 15th, and this is what he saw 37,000 ft over the Shetland Islands: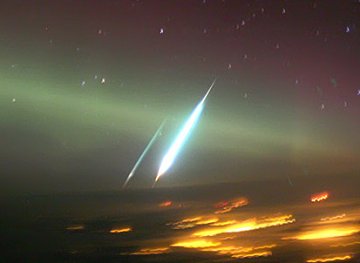 "The display was awesome and completely occupied the view, illuminating the fuselage and clouds below us in an eerie green light," says Lawrence. "At one point, a brilliant fireball streaked down towards the horizon. If you're wondering why there are two fireball trails, the main one was so bright that it left a noticeable reflection in the plane window. What a night!"
What a night, indeed. It could be just the first of many. The opening months of 2010 have brought a sharp increase in solar activity and a concomitant brightening of the aurora borealis. NOAA forecasters estimate a 25% - 30% chance of more polar geomagnetic activity in the next 48 hours. A tip for flyers: Grab that window seat.
UPDATED: February Northern Lights Gallery
[previous Februarys: 2009, 2008, 2007, 2006, 2004, 2003, 2002]
DIFFICULT, BUT BEAUTIFUL: Last night, Venus and Jupiter converged for a remarkable conjunction; at closest approach, the two bright planets were only 1/2-degree apart. Just one problem. The meeting occured deep in the glow of sunset: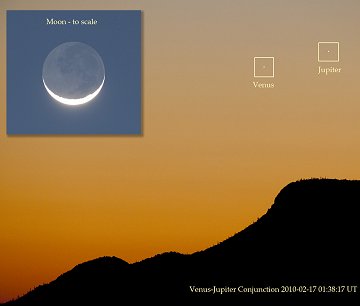 The event required crystal-clear skies for easy visibility. "Here in Arizona, we were able to see Venus and Jupiter with the naked eye," reports David Harvey from Tucson. "I shot the moon a few minutes after Jupiter set and inserted it for scale. It was a beautiful view."
Elsewhere, viewing the conjunction was more of an adventure. Some photographers conducted car chases to find gaps in clouds, while others climbed to rooftops for a better angle. Click on the links below for sunset tales.
more images: from Doug Zubenel of Lawrence, Kansas; from Dr. Wayne Wooten of Pensacola, Florida; from Becky Ramotowski of Tijeras, New Mexico; from Tavi Greiner of Coastal North Carolina
---
Solar Eclipse Photo Gallery
[eclipse alerts] [solar telescopes]