| | | |
| --- | --- | --- |
| FLYBY ALERT! Space shuttle Discovery launches on May 31st. Get your flyby alerts from Space Weather PHONE | | |
TWIST AND SHOOT: Last week, over a period of two days (May 9th and 10th), NASA's Stereo-B spacecraft observed a troupe of magnetic filaments dancing along on the limb of the sun. For reasons that will become clear when you watch the performance, mission scientists have entitled the movie Twist and Shoot: 4.4 MB Quicktime, 8.1 MB mpeg.
SOLAR CONJUNCTION: There's a nice sky show underway that would surely make news except for one thing: looking at it hurts! Venus and the Pleiades star cluster are converging on the Sun. (continued below)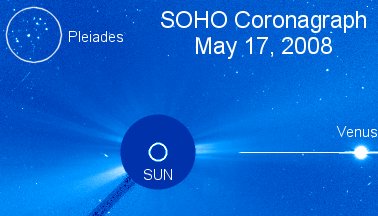 Humans eyes can't see the conjunction because of the sun's painful glare. The Solar and Heliospheric Observatory (SOHO) has no such trouble; a coronagraph onboard the spacecraft blocks bright sunlight to reveal stars and planets on the verge of the sun itself. On May 22-23 the Sun-Pleiades-Venus triangle will shrink in width to only 5o. Join SOHO for a ringside seat.
ISS FLYBY: "A new period of visible ISS transits over Europe has begun and will last for nearly three more weeks," says Dirk Ewers of Hofgeismar, Germany. "I took these pictures during the early morning hours of May 12th using a 5-inch refracting telescope."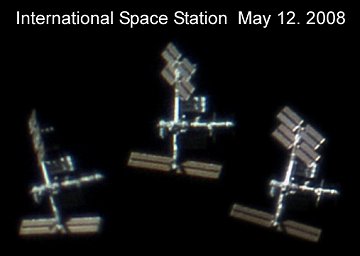 Click to the view the 0.9 MB movie
Ewers tracked the ISS across the sky and his movie of the entire 75o transit is a must see.
The ongoing flybys of Europe are extraordinary, with the ISS making two to four appearances a night over some cities. European readers, try our new global Satellite Tracker to find out when to look.
---
April 2008 Aurora Gallery
[Aurora Alerts] [Night-sky Cameras]