MYSTERY OF THE MISSING SUNSPOTS: Where have all the sunspots gone? Scientists studying a jet stream deep inside the sun may have found the answer. Get the full story from Science@NASA.
NOCTILUCENT CLOUDS: "Breathtaking. A crackerjack display. The best in years!" These are a few of the things veteran observers are saying about the ongoing "noctilucent storm" over Europe. The electric-blue clouds have been sighted from Belgium, Denmark, Estonia, Latvia, the Netherlands, France, Germany, Poland, Russia and the British Isles. On June 16th, photographer Bryan Tobias was flying across the North Atlantic at 36,000 feet when he looked out the window and saw this: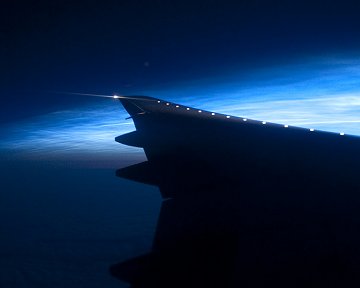 "It was absolutely beautiful!" says Tobias. "We were a few hundred miles south of Greenland at the time of the display. The flight crew had no idea what the phenomenon was, but I was able to explain. No one could sleep because the clouds were so beautiful."
This could be the beginning of a very busy summer for noctilucent clouds (NLCs). For reasons no one fully understands, NLCs tend to be most active during years of solar minimum. 2009 is such a year. The sun is in the pits of the deepest solar minimum in nearly a century, and many researchers expect a banner season for these mysterious clouds.
To hunt for them, look west 30 to 60 minutes after sunset when the Sun has dipped 6o to 16o below the horizon: diagram. If you see luminous blue-white tendrils spreading across the sky, you've probably spotted a noctilucent cloud. Although noctilucent clouds appear most often at high latitudes, they have been sighted in recent years as far south as Colorado, Utah and Virginia.
2009 Noctilucent Photo Gallery
[previous years: 2008, 2007, 2006, 2005, 2004, 2003]
GREAT RED SPOT RIVAL: Astronomers are monitoring a new red spot forming in Jupiter's northern hemisphere--a brick-red storm nearly as large as the Great Red Spot itself. On June 17th, amateur astronomer Christopher Go of the Philippines photographed it using an 11-inch Celestron telescope: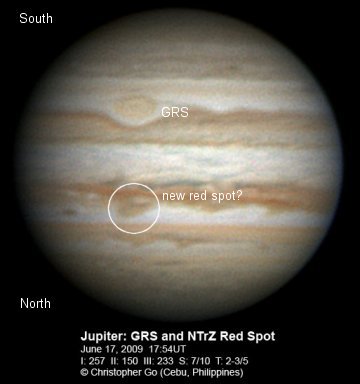 "I have been monitoring the new spot since mid-April," says Go. "At first it was relatively small. In late May it began to grow rapidly, and just last week John Rogers of the British Astronomical Association issued an alert for everyone to observe it."
"I hope to get an 890 nanometer 'methane band' image of this object in a few days," adds Go. "A good methane image will prove whether or not the new spot is a genuine anticyclonic storm."
Stay tuned!
EXTRA: Jupiter's atmosphere is rich in methane (CH4), a molecule which absorbs 890 nm light. Viewed through an 890 nm filter, anticyclonic storms such as the Great Red Spot rise above the absorbing methane layer and appear bright. That is why a methane band image will reveal the nature of the new spot.
---