GREAT FIREBALL: A remarkable midnight fireball that "turned night into day" over parts of the western United States last night was not a Leonid. Infrasound measurements suggest a sporadic asteroid not associated with the Leonid debris stream. The space rock exploded in the atmosphere with an energy equivalent to 0.5 - 1 kilotons of TNT. Approximately 6 hours later, observers in Utah and Colorado witnessed a twisting iridescent-blue cloud in the dawn sky. Debris from the fireball should have dissipated by that time, but the cloud remains unexplained; we cannot yet rule out a connection to the fireball event. Stay tuned for further analysis. videos: #1, #2, #3.
LEONID METEOR UPDATE: As forecasters predicted, there was a surge of Leonid meteors during the late hours of Nov. 17th. Preliminary counts from the International Meteor Organization exceed 120 meteors per hour: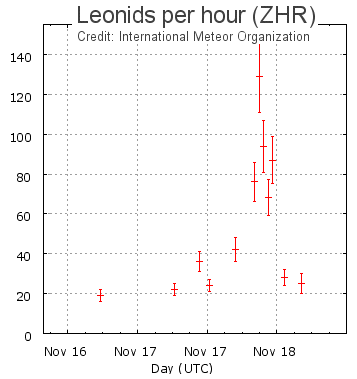 The surge occurred when Earth passed through a double-stream of debris from Comet 55P/Tempel-Tuttle. We call it a "double-stream" because it consists of dust ejected from the comet on two occasions, in 1466 AD and 1533 AD. Earth is exiting the double-stream now, but low-level Leonid activity continues. Listen for pings on the meteor radar. .
UPDATED: 2009 Leonid Meteor Gallery
[previous Leonids: 1998, 2001, 2002, 2006]
GOODBYE SUN: "The last week has been special with the sun rising in the south and setting in the south only an hour later," reports Fredrik Broms of Kvaløya, Norway. "But today (Nov. 16) the sun barely made it above the horizon." He photographed the few visible rays using a Nikon D3: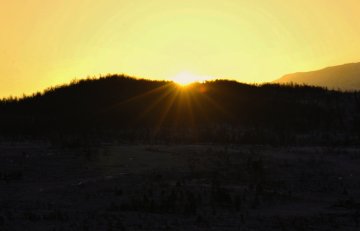 "Now sky watchers around the Arctic Circle enter the long polar night when the sun doesn't rise at all. How long this period lasts depends on your latitude. Here in northern Norway, the sun won't be back until the end of January."
"Goodbye sun, until 2010!"
---
November Northern Lights Gallery
[previous Novembers: 2008, 2007, 2006, 2004, 2003, 2002, 2001]
---