SPACESHIP SIGHTINGS: Space shuttle Atlantis has docked to the International Space Station and the two spacecraft are now circling Earth together. The shuttle-ISS combo is very bright in the night sky. Check the Simple Satellite Tracker for flybys of your home town.
GREAT WESTERN FIREBALL: Yesterday, Nov. 18th, something exploded in the atmosphere above the western United States. Witnesses in Colorado, Utah, Wyoming and Idaho say the fireball "turned night into day" and issued shock waves that "shook the ground" when it exploded just after midnight Mountain Standard Time. The fireball was so bright it actually turned the night sky noontime blue, as shown in this image from KSL TV in Utah: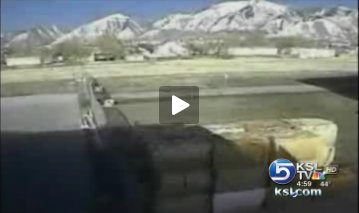 Although the fireball appeared during the Leonid meteor shower, it was not a Leonid. Infrasound recordings of the blast suggest a small asteroid hitting Earth's atmosphere and exploding with an energy of 0.5 to 1 kiloton of TNT. Experts liken the event to the Park Forest fireball of 2003, which scattered dozens of meteorites across a suburb of Chicago. Meteorites are likely from this fireball as well. Stay tuned for developing information about the possible fall zone.
more fireball images: from KSL TV in Utah; from KTVB News in Idaho; from Thomas Ashcraft near Santa Fe, New Mexico; from Marsha Adams of Sedona, Arizona;
Approximately 6 hours after the fireball, people in Utah and Colorado got another surprise. As the sun rose over those states, a twisting electric-blue cloud appeared in the dawn sky:
"These curious clouds on the horizon caught my attention just before sunrise," says photographer Don Brown of Park City, Utah. "They were strangely bright relative to the rest of the sky."
The cloud strongly resembles artificial noctilucent clouds formed at high altitudes by rocket and shuttle launches. Yet there was no (officially reported) rocket launch at dawn on Nov. 18th. Could the cloud be associated with the fireball? The geographical coincidence is certainly striking. Debris from the fireball should have dissipated by sunrise, but the cloud remains unexplained and a connection to the fireball cannot yet be dismissed. Readers, if you have more information about this event, let us know.
more mystery cloud images: from Lisa Cain of New Castle, Colorado; from Daniel Owen of Monarch, Utah; from John Omohundro of Grand Junction, Colorado; from Jeff Kendrick of Salt Lake City, Utah; from Allan Jeffers of Denver, Colorado; from Scott Stringham of Salt Lake City, Utah; from Sean O'Leary of West Jordan, Utah;
---
UPDATED: 2009 Leonid Meteor Gallery
[previous Leonids: 1998, 2001, 2002, 2006]
---
November Northern Lights Gallery
[previous Novembers: 2008, 2007, 2006, 2004, 2003, 2002, 2001]
---