SHUTTLE FERRY ALERT: Today, space shuttle Discovery is flying across the United States on the back of a 747 airliner. The pair took off from California's Edwards Air Force Base at the crack of dawn on Sunday and they are expected to reach the Kennedy Space Center in Florida sometime on Monday. Intermediate stops include Amarillo, Texas, for refueling, and Shreveport, Louisiana, for overnight rest. Sky watchers along the flight path should be alert for the shuttle ferry.
images: from Joel Warren of Amarillo, Texas;
SATURDAY NIGHT LIGHT SHOW: The phones started ringing around 7:30 pm EDT on Saturday night, Sept. 19th. All along the US Atlantic seaboard, police stations and news desks received reports of strange lights in the sky. John A. Blackwell of Exeter, New Hampshire, snapped this picture of the phenomenon: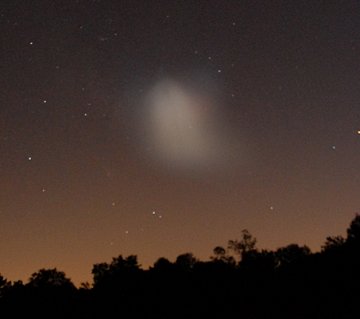 "It was an impressive display," says Blackwell. "To the naked eye, it was visible for about a minute."
It looks like a passing comet or a giant, luminous amoeba. But this was pure rocket science. The cloud was created by a Black Brant XII sounding rocket launched from NASA's Wallops Flight Facility in Virginia. The rocket released a cloud of electrically-charged aerosols near the top of Earth's atmosphere to investigate the formation of noctilucent clouds or "NLCs." Mysterious NLCs form naturally around Earth's poles during the months of northern summer. On this September evening, researchers decided to see if they could create an artificial NLC at mid-latitudes; it seems to have worked.
Ground-based cameras and radars along the Atlantic coast monitored the experiment while the STPSat-1 satellite watched from Earth orbit. Principal investigators at the Naval Research Lab hope the data will reveal much about the microphysics of noctilucent clouds and the possible role of rockets in creating them.
more images: from Neil Winston of Lusby, Maryland; from Geoff Chester of Alexandria, Virginia; from Greg Piepol near Manassas, Virginia; from Tom McIntyre of Central Park, New York;
APPROACHING SUNSPOT: NASA's STEREO-B spacecraft stationed over the sun's eastern limb is monitoring an active region not yet visible from Earth. STEREO's extreme ultraviolet telescope captured this image on Sept. 19th: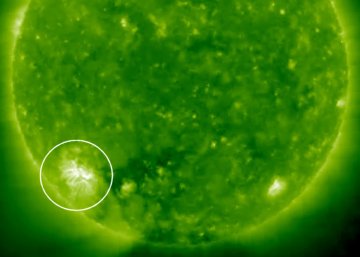 The tangle of hot, magnetized plasma circled above almost certainly overlies a large new-cycle sunspot. We'll soon find out. The sun's rotation is turning the active region toward Earth and it could pop over the sun's eastern limb as early as Sept. 21st. Readers with solar telescopes are encouraged to monitor developments.
---
Sept. 2009 Aurora Gallery
[previous Septembers: 2008, 2007, 2006, 2005, 2004, 2002, 2001]
---