| | | |
| --- | --- | --- |
| NEW AND IMPROVED: Turn your iPhone or iPod into a field-tested global satellite tracker. The Satellite Flybys app now works in all countries. | | |
3D SUN FOR THE iPHONE: Imagine holding the entire sun in the palm of your hand. Now you can. A new iPhone app developed by NASA-supported programmers delivers a live global view of the sun directly to your cell phone: full story.
SHUTTLE SIGHTINGS: On Friday night, about three and a half hours after Endeavour undocked from the International Space Station, the shuttle performed a routine waste water dump. Two hundreds miles below on Earth, Ralf Vandebergh was standing in his backyard in the Netherlands pointing his camera at the sky. The picture he took was anything but routine: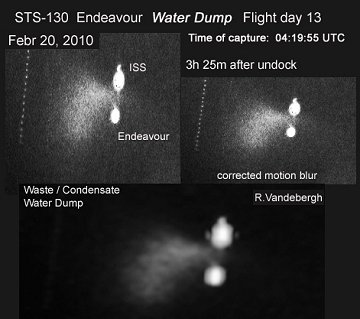 "When I inspected the images," says Vandebergh, "I noted a misty cloud moving together with the two spacecraft. I quickly realized, it must be the Waste and Condensate Water dump performed by George Zamka and Terry Virts shortly after undocking."
Onboard the shuttle, astronauts likened the view out their window to a beautiful winter snowfall. The snowflakes in this case contained a fair measure of crystallized urine. It's got to go somewhere!
Endeavour is scheduled to land at the Kennedy Space Center on Sunday night, Feb. 21st, at 10:16 pm EST. However, unfavorable weather in Florida and at the backup landing site in California could keep the shuttle in orbit an extra day. This would give sky watchers one more chance to see the ISS and Endeavour together. Check the Simple Satellite Tracker to see if you are favored with an apparition.
more images: from Olivier Staiger of Vétroz, Switzerland; from Marco Langbroek of Leiden, the Netherlands; from John C McConnell of Maghaberry, Northern Ireland; from Richard P. Nugent of Framingham, Massachusetts;
MAGNIFICENT MAGNETISM: NASA spacecraft and amateur astronomers alike are monitoring a staggeringly-long filament of magnetism on the sun. It is snaking more than a million kilometers around the sun's southeastern hemisphere. Click on the image to launch a 48-hour movie recorded by the Solar and Helioospheric Observatory (SOHO):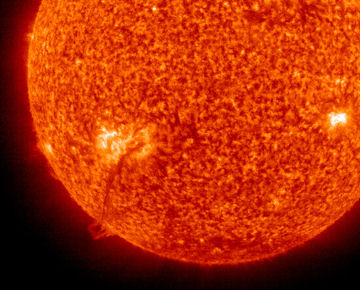 As the movie shows, this magnificent magnetic structure has remained mostly stable for at least two days. However, filaments like this one have been known to collapse, and when they hit the surface of the sun--bang!--a tremendous explosion results. Such blasts are known as "Hyder flares," and they can rival the strongest flares produced by sunspots. Solar physicists have not yet learned to predict Hyder flares, so we cannot estimate the odds of one now.
Readers with solar telescopes are encouraged to monitor developments.
more images: from C. Swiger and J. Stetson of South Portland, Maine; from Mark Townley of Brierley Hill, West Mids, UK; from Cai-Uso Wohler of Bispingen, Germany; from Alan Friedman of downtown Buffalo, NY; from Michael Wilk of Augsburg, Germany
---
February Northern Lights Gallery
[previous Februarys: 2009, 2008, 2007, 2006, 2004, 2003, 2002]